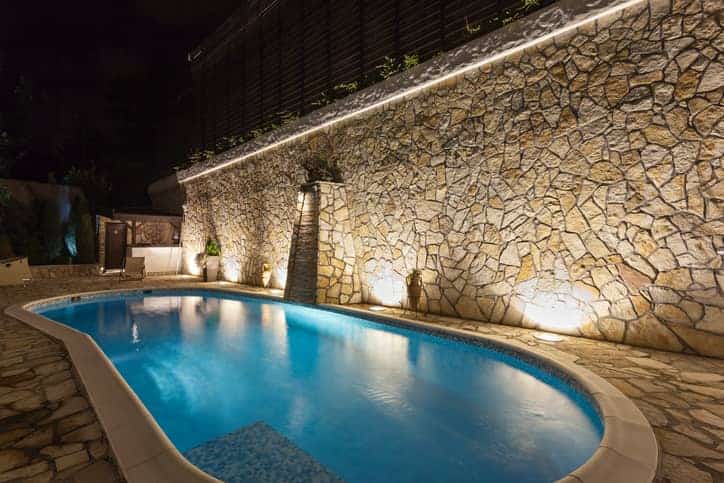 You want to get a pool for your backyard but you are not sure what color you want. A swimming pool area defines the aesthetic of your whole backyard.
Are dark pools harder to clean? Not really. Maybe around the edges if your water is hard, but not significant. It will also keep the water about 5 degrees warmer because of dark color absorbing light.
Pools only color options were white, light blue, or aqua blue. Now they come in all colors and shapes so you have many options. Keep reading if you want to learn how to keep a pool clean.
Stains
Fiberglass pools can get stains as a result of corrosion of metals used to produce the fiberglass shells. This gradual leeching of iron from the shell would produce the brown rust color stains to the pool. 
Also copper from the wall materials can also lead to discolouration of the pool when eroded. This gradual erosion produces a blue-green stain which gives the pool an unsavoury look.  
Anti-leeching chemical agents are required to maintain a spotless condition. These chemicals work by maintaining the metal balance ratio ensuring that the fiberglass shell is kept spot free. 
Pool PH Levels
Water filled in a pool is usually treated to ensure that is safe and healthy for swimming. There is usually a range of PH (level of acidity or alkalinity of the water) that is required for fiberglass pools. It is important as a pool owner to regularly test your pool for the PH level. 
 A good way to maintain the PH  level of the pool is to turn on the pool filter after use.  constant application of this procedure would help maintain optimal levels.  You can also utilize a skimming net to clean debris and dirt which can affect the PH levels of the pool. 
Regular cleaning of the pool walls and floor with a special sponge and chemical cleaners would help maintain the PH of the pool. Vacuuming of the bottom of pool is also a good way of maintaining the PH level of the pool.
The required PH balance for a standard pool is between 7.4-7.6, Chlorine balance is between 1.0 and 3.0 ppm and Alkalinity level is between 100 and 150 ppm. 
Checks for Leakage and Proper Fitting of Plumbing Equipment
Plumbing equipment such as pipes, valves undergoes wear and tear as a result of friction over a period of time which could lead to blockages. It is essential to check for leakage and lubricate valves and moving parts periodically. 
There are special lubricants that can be applied to different parts of the plumbing network. These preventive methods can help save money as lack of maintenance could result in the wholesome replacement of parts. 
Adjusting Water Levels
The water level of your fiberglass pool must be checked regularly in order to maintain safe conditions. Pools with diving platforms such as a jumping rock or diving boards have to be checked regularly to maintain a minimum of 8 feet water level for safe diving. 
Blocked valves or problems within the plumbing network could result in rising or reduction in pool water level. It is always beneficial to observe regular checks on valves, pipes and other plumbing equipment. 
In-addition multi-depth pools have to be monitored carefully because there could be sharp discrepancies between two intersections which could be dangerous for swimming. 
Labour costs should also be put into consideration as some of these processes would require a professional to maintain the correct standard required. Many pool maintenance services charge between $50-$150 an hour depending on the nature of maintenance needed.