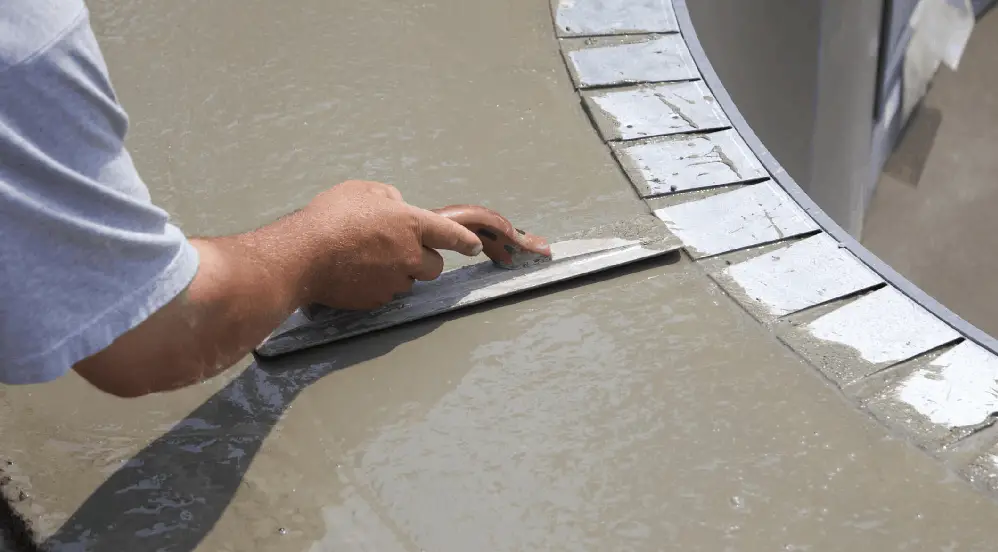 A concrete swimming pool is an in-ground swimming pool that is constructed using concrete. Concrete is poured into a steel mold that shapes the outline of the pool. It can be made from poured concrete or sprayed concrete.
How Much Does An Average Concrete Pool Cost? A concrete pool will vary in price greatly depending on size, complexity of construction, amount of features and finishes selected. An average concrete pool will cost $30,000 and $50,000 because they are usually larger than other pools, they require more electricity and more chemicals to keep them clean and swimmable.
Concrete pools are one of the most popular and best swimming pools. It is the best choice for home owners for different reasons. Apart from aesthetics, concrete swimming pools are a great choice of your property due to many designs available, the ability for privacy, relaxation in the comfort of your home and the value it adds to your home.
Features That Helps In Determining The Cost Of The Pool
Size Of The Pool
The size of the pool is one of the foremost reason that will change the cost. If you will accommodate an extra space in the pool then costing of the pool will automatically increase. The space of your backyard determines the space of the pool. If the size of the pool is less, then the cost will also decrease.
Material Of The Pool
Apart from the size of the pool, the material will also depend upon the cost of the pool. The more expensive the type of material used the more will be the cost of the pool. Pools made up of concrete materials are expensive.
Designs And Style Of The Pool
Even the customized designs and the personalized styles are in a way that can cost a lot of money. These designs are not very cheap. Ranging from the standard to the most personalized design the concrete pools have a high to medium and to low cost as per the price of the style you want to implement in your home.
Installing a concrete swimming pool is a large investment. The cost is affected by factors such as the type of concrete, the type of finish used, the accessories and some enhancement cost.
Why Concrete Pools Are Expensive
Concrete pools are flexible with design. You can build a concrete pool to match any shape or design. And because concrete pools are made on-site, your pool builder can adjust your design exactly to suite your site.
A concrete pool is durable. Concrete swimming pools are the most durable pools. It lasts longer, will maintain better and returns have value to your home or property. If you are concerned about your pool withstanding harsh conditions concrete pool is the way to go.
Concrete swimming pools will withstand the cold climate but it will also wear well under the warm sun and in climates where the ground has more sand and clay. Because of versatility, concrete is the most popular choice for swimming pool construction.
An inground concrete pool can be built to almost any depths and in any shape. It can be as deep as you want it to be. A concrete pool can be designed to fit your available space. You have more freedom to design shallow and deep areas to fit the usage needs of you and your family.
How Concrete Pool Construction Stages Add TO The Cost Of The Pool
Stage 1: Concrete Pool Excavation
Earth is excavated and either hauled off-side or used on the property. The process takes several hours depending on the pool size, equipment used, soil type and the means of dirt removal.
Stage 2: Steel Placement
Concrete has a very high compressive strength, it is resistant to crushing forces. It has relatively low tensile strength. Adding steel to concrete structures such as swimming pools increase the structure's ability to flex and move with the environment. A cage of steel bars is tied together and eventually encased in the concrete shell creating a web of strength and help to prevent structure failure.
Stage 3: Concrete Pool Plumbing
The pipe needed to circulate the pool water is installed. Much of this plumbing is installed before the steel phase, some is surrounded by the steel and is installed after. Plumbing is capped and pressure tested during the placement of the concrete shell.
Stage 4: Concrete Shell Placement
Concrete is shot into the place using a nozzle, then shaped using straight edges and trowels. This process is long, loud and dirty. Plastic screens are often placed to prevent overspray from infiltrating surrounding areas.
Stage 5: 28-Day Cure Time
Curing is the process in which specific molecules within cement become hydrated with water. The more hydrated or cured the concrete is, the stronger it becomes. It takes 28 days to achieve a relatively full cure and achieves its best cure when water is introduced to the surface. It is recommended that concrete pool shell is sprayed with water 2-3 times per day over a 28-day period.
Stage 6: Tile And Coping
Because the surface of concrete pools are porous and subject to staining at the waterline, tile is needed along the top 6 inches of the pool. Coping is the concrete or stone boarder placed around the perimeter of the pool and provides the transition from the pool to the patio.
Stage 7: Patio Installation
The pool shell begin to look finished and its time to install the patio surrounding it. During this phase the base beneath the patio area is prepared by placing and compacting stone. Next to the patio which is typically either concrete, pavers or natural stone is installed.
Stage 8: Plaster
The final construction phase is the application of the interior surface of the concrete pool. This is typically plaster which is a mixture of cement, sand, marble, dust, pigment and water. It is pumped through a hose, shot on the pool shell and troweled to a flat finish.
Finishes such as pebble-tec or diamond brite are applied in a similar way but after troweling the cream on the surface is removed to reveal the decorative aggregate within the mix.
Stage 9: Concrete Pool Start-Up
Because the surface of the plaster is not cured for 28 days it is susceptible to damage and staining from water that is not properly balanced. Upon initial start-up it is crucial that water chemistry is checked and balanced daily.
The pool must also be brushed twice per day at least the first 10 days after filling, to remove plaster dust from the surface.
Pool heaters should not be started up until all plaster dust is removed. No chlorine should be introduced for at least 48 hours. Swimmers and pests should avoid entering the pool until the water is balanced.
Overview Of The Initial Cost
This include Square footage, Interior surface, Patio size, Material, Pool accessories, Landscaping, Water features.
Square Footage
Square footage has the biggest effect on initial cost. You spend more money for every square foot of concrete, steel, plaster, tile and coping.
Interior Surface
Interior surface that you use affect the cost. Plaster is usually the standard interior finish.
Patio Size And Material
Patio size and material are a huge factor in the overall budget.
Parts Of A Concrete Swimming Pool
There are many parts of a concrete swimming pool. These parts are the ones that make a pool to function and operate efficiently. These parts include Water pump, Filter, Return jets, Skimmers and Main drain.
Water Pump
A water pump draws water from the pool, pushes it through the filter and back into the pool. It is the first part of the filtration system of a pool. The pump consists of two parts a bucket with a lid and the basket that goes inside. Within the pump is the motor that spins to help suck the water in and shoot it back out. The average cost of a water pump is $100 – $600 including installation.

Filter
The filter is the second part that makes up the filtration system of a pool. Water pump sucks in the water and the water pushes out of the filter. The filter acts to clean the water of any unwanted materials then moves it right back into the pool. There are three types of swimming pool filters: cartridge, diatomaceous earth and sand. The average cost of each is $200 – $1,100 for a cartridge filter, $485 – $1,500 for a diatomaceous earth filter and $250 – $1,130 for a sand filter.
Return Jets
Return jet is used to push the water back into the swimming pool after its been filtered and also assist in circulating the water around the pool, which helps the skimmers pick up extra debris. The average cost of the return jet is $9,28 per jet.
Skimmers
Skimmers help to suck water out of the pool and into filtration system. Inside the skimmer is a plastic basket that helps to catch the debris that is floating around in the pool. The basket ensures that debris does not enter the pump depending on the size of the pool and some have more than one skimmer. The average cost of a pool skimmer is $1,500.
Main Drain
It is the main drain of the pool. Most commonly located in the deep end of the pool. Main drain help to pull water off the bottom and other areas of the pool to push it through the filter. The cost of a main drain is $20 – $65.
Types Of Concrete
There are four main types of a concrete swimming pool. These are Structural concrete, Gunite concrete, Cast-in-place concrete, Shotcrete concrete.
Structural concrete often comes in the form of slabs and is used mostly for swimming pools that are built on top of facilities or for pools built into hillside. This concrete is great for pools that are oddly shaped or being installed for non-flat surface. The cost of structural concrete is $60 -$70/sq. ft.
Gunite concrete is applied to the surface. The formula for gunite has a lot more cement and less water than to cast-in-place or shotcrete concrete. It is placed using a pressurized hose which combines the dry concrete mixture with water before being sprayed into the surface. The cost of Gunite concrete is $72/sq. ft.
This concrete is installed by building a form using steel or wooden boards and then pouring the concrete mixture into form before smoothing it. It is one of the most popular methods. The cost of Cast-in-concrete is $55 – $60/sq. ft.
It is also called free form type of concrete. It is applied either horizontally of vertically. The concrete is poured into a shotcrete pump and sprayed into layers through a nozzle. This continues until the design is complete. The cost of shotcrete concrete is $55 – $60/sq. ft.
Finishes
There are three main types of concrete swimming pool finishes to choose from. These include Plaster, Paint and Tile.
Plaster consists of a mix of white sand, white cement, marble and water. It is usually white in color but it can be dyed different colors. Plaster is the least durable and lasts for roughly 5-10 years. The cost to plaster a pool averages $1,50 – $5 per sq. ft. It is inexpensive, looks classy, simple and is standard for most concrete pools. Plaster requires a lot of surface maintenance.
Paint can give a pool a beautiful, long lasting finish, making it look brand new and clean all over again. There are three pool paints to choose from acrylic water-based paint, chlorinated rubber pool paint and epoxy paint. The cost to paint a pool averages $1,50 – $5 per sq. ft. Paint produces a clean look. There is no warranty on painting the pool, the pool will have to be repaired roughly after every 2-4 years.
Tile is made of porcelain, glass or stone. Tile can be textured, hand-painted, or glazed and is very commonly used for a pool waterline. Tile for pool averages $4 – $30 per sq. ft. Tile is easy to clean, it is a long lasting interior for concrete pools. It is expensive and can crack if not properly maintained.
Labor
There are lot of steps involved in building a concrete swimming pool. The whole project begins with an inspection which includes the project design and proposal as well as the permit and approval. Once all of that is sorted the construction project begins.
The first step in construction is establishing the pool layout. The contractor will carefully outline the exact location and shape of the pool on the ground and once the forms are set the excavation can begin. This part is done using front end loaders to dig and push back the walls of the pool. Once the hole is dug, steel bars are used to reinforce the pool shell.
Following the steel installation plumbing is roughed in for the return lines and main drains. The concrete is poured into the mold at least 6 inches deep and then left to dry for a few days.
After the completion of the concrete phases any decorative tiles will be installed and the plumbing will be finalized. Next the equipment is set up including the pumps and filtration system and the electrical gas hookups are completed.
Nearing the final stage of the project, the deck will be poured or laid and then construction materials and waste from the site will be cleaned up. After that is done, the interior of the pool is coated with finish, either plaster or paint and the pool will be filled with water.
Once all is done the contractors will come and test the pool equipment to make sure everything starts up properly and will go over common maintenance procedures.
On average, concrete pools take between 3-12 weeks to install. This is a lot longer than most of the other types of pools. The reason for this is that concrete has to cure for a period of time after it is poured. Labor costs average between $1,550 and $2,500.
Accessories
Common types of pool accessories are lighting, alarms, covers, ladders and diving board, pool deck storage box, pool bench seats and slides.
Lighting
Lighting built into the sides of the pool. Floating lights in the pool. Sides costs $150 – $300/each and floating lights $20 – $100/each
Alarms
Door alarms help to alert adults of someone going in the pool gate. Cost $120 – $287.
Covers
Covers are used to keep debris out when no one is using the pool. Popular covers include solar, thermal, security and automatic covers. Thermal traditional covers cost $75 – $225, security covers cost $1200 – $3000, semi-automatic cover cost $5,000 – $15,000.
Ladders And Diving Board
Ladders are an entry or exit way in a pool. Diving board are used as a method to jump or dive into the pool. Ladders cost $70 – $200 and diving boards cost $400.
Pool Deck Storage Box
Used to store pool accessories. It costs $150 – $300.
Pool Bench Seats
Provides you with somewhere to sit and storage space. It costs $250 – $400
Slides
This is a fun accessory used to slide into the pool. It costs $750 – $14000 or more
Maintenance
Maintenance is important to keep a pool safe for swimming. Maintenance include Pool vacuum, Clean out filter, Water temperature, Brush, Acid washings and Control pH and Calcium levels
A pool should be vacuumed at least weekly to get rid of unwanted debris and algae. It costs $600
The filter should be cleaned out at least weekly to get rid of debris. There are three types cartridge filter, diatomaceous earth filter and sand filter. Cartridge filter cost $200 – $1,100, Diatomaceous earth filter cost $485 – $1,500 and Sand filter cost $250 – $1,130.
Water temperature should be checked at least daily. Cost of heat pool using the heater cost $75 -$250/month.
A brush helps to circulate the water and keep the pool clean. It costs $30 – $60/brush.
Acid washing is the process of washing a concrete swimming pool by stripping away the outside layer of plaster while cleaning it and disinfecting it. It costs $178 – $225.
Control pH And Calcium Levels
All of these levels should be checked when opening the pool. It costs $80/month
Enhancement And Improvement Costs
Retaining Walls
A retaining wall is a structure that that will support vertical slopes to help hold back water and soil. Retaining walls can be made of stones, wood, interlocking blocks or concrete. The cost to install a retaining wall ranges depending on the material used. Interlocking concrete blocks cost $15 – $30 per sq. ft., wood walls cost $20 – $25 per sq. ft., and stone retaining walls range from $25 – $40 per sq. ft.
Utility Shed
With a pool comes many accessories and gadgets that need a place to be stored. Utility shed can be very handy for this reason. A utility shed can be a great place to store all those materials and keep them out of the weather and secure from theft or damage. The cost of the custom built utility shed averages $2,745 or $22,85 per sq. ft. Along with this cost a carpenter charges $70 per hour and an electrician $65 – $85 per hour.
Waterfall
A waterfall is a decorative structure that can act as the focal point of your pool, adding a beautiful visual appeal. Along with aesthetics, a waterfall can add many other benefits including preventing algae from growing helping to filter the water and providing a soothing noise. The average cost to install 12 sq. ft. rock waterfall on a pool averages $1,020.
Fence
Installing a pool fence creates a safety barrier around the pool and to protect one's privacy. For some areas having a fence around a pool is required by law in the interest of safety. The average cost for a pool fence installation is around $1,120 which includes a single self-closing gate.
Heater
A heater helps to provide a comfortable pool temperature all year round. There are multiple choices of pool heaters and many other factors that you have to consider such as the location, how much it will be used and the type of pool. Installing a pool heater for a standard 32×16 inground pool averages $1,800 – $2,400.
Enclosure
A swimming pool enclosure is a structure comprised of clear panels surrounding and covering your pool. There are many factors that affect the cost of a pool enclosure including the size of pool, shape, and whether the enclosure is attached or detached from your home. The average cost to install a standard medium height pool enclosure is $2,125 including a labor fence.
Additional Costs And Considerations
A concrete pool will need to be resurfaced. If you start to see spots and cracks along the pool surface, then it is time to have your pool resurfaced. When installing a pool it is important to pay attention to the warranty offered by a pool company.
When approving contractors to go ahead with pool installation it is advisable to request a written letter of how long the pool installation process should take. It usually takes longer than they originally thought and they may try to charge you more for that extra time in the end.
Most towns and cities and countries require you to have a residential building permit in order to build an inground pool. This follows the building and zoning regulations. Visit your local council to purchase your permit.
Related Questions
How long do concrete pools last? A concrete pool will last longer than a vinyl linear pool but you will need to keep it resurfaced about every 10 years. They also come with higher maintenance and have higher chemical usage than fiberglass pool.
How much does it cost to build a pool per square foot? The average cost to build a pool per square foot is $72 – $160. The cost is determined by factors relating to the type of pool built, the size of the pool and the materials used.
How much does it cost to build an inground pool? The average cost to build an inground pool is between $29,000 – $90,000.
How much does it cost to build an underground pool? The average cost to build an underground pool is $29,000 – $60,000. The amount will depend on the type of underground pool you are putting in.
What's the difference between Gunite and Shotcrete for a concrete pool? Concrete pools can be made either shotcrete or gunite. The difference is when the concrete mixes with the water. Shotcrete refers to wet concrete that's already fully mixed before its shot out of a hose. Gunite is dry concrete mix that only mix with water at the nozzle when its sprayed.
What is an inground swimming pool? An inground swimming pool is simply a pool that is in the ground. It is a permanent structure built to last. A concrete swimming pool is an inground pool.