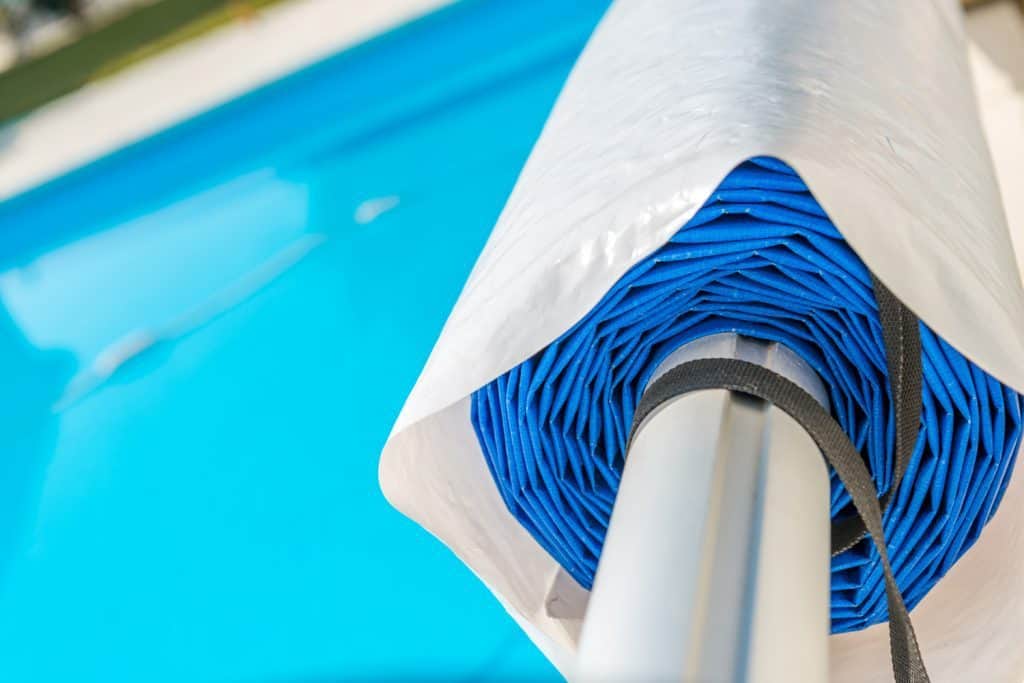 You have a classic free-form pool and you want a cover that enhances that look. How about an automatic pool cover designed to suit your personality?
Thanks to innovative technology, free-form pool owners can now enjoy the convenience of automatic pool cover. There are plenty of pool cover options to choose from. Each cover comes with its' own unique system that aligns to your pool shape. The size is also considered to cover all corners of the pool.
Can you get an automatic pool cover for free-form-shaped pools? Yes, the unique free-form shapes make it difficult to install the automatic pool covers. However, with proper planning and coordination with your pool builder, the correct cover can easily be installed.
There are specific personalities to each pool and while selecting the covers, it is important to consider the mechanism that will best suit your pool. The choice of these mechanisms is determined by whether you are installing it on a new or existing pool.
The advantage of these covers is that they offer safety, energy conservation, green benefits and help save money. This helps reduce your maintenance costs and save on time used to clean the pool.
History
Free-form pools are a development of the 20th Century. Their history was based on the construction of luxury pools to reflect nature by different individuals. Natural materials were used to have a pool that resembled natural water bodies, ponds or oasis.
Automatic pool covers are, however, a development of recent years. They are based on innovations that enable different shaped pools to be fully protected and enjoy green benefits of automatic covers.
The determining factors of automatic pool covers for free-form pools include; shape of the pool, the time of installation (new or existing), and the location of the cover tracks.
Point to Consider before Installing a Pool Cover
The cost of the overall project is the most important point of consideration when installing the cover. Just like with any other pool construction, you have to think about how much it is going to cost you to install that automatic pool cover. Pool covers are expensive, with the least price ranging around $5000-$8000. Proper planning and coordination is necessary to avoid a fall back on your project. Consult your pool builder. Evaluate your options and implement the best fit option.
Free-form pools are all about looks and defining your unique personality. Go for covers that have colors that match your taste. Think beyond safety and consider mechanisms that blend well with your landscape. Install a cover that brings out the naturalistic effects of the surrounding.
Are you installing the cover on a new or existing pool? There are different automatic pool cover systems for different pool designs. There are also covers that can only be installed on new pools. The choices are based on the positioning of pool pump and filters. Let your architect advice you on the best applicable options. Ensure that your cover covers all corners of your free-form pool.
Expert advice is important for proper installation of your pool cover. Research on companies with good reputations, have a look on their reviews and get a well-skilled architect to develop and install the covers. Inquire about your choices and get reliable answers from other reliable sources.
Materials
Understanding the kind of materials to use and their reaction to different weather changes is very important. You have to think of how well your covers are going to withstand extreme hot temperatures or heavy snows. The right cover material will help increase the covers' lifespan and save you the cost of regular replacements.
So, What Exactly Are We Looking For in Cover Materials?
We want a material that is strong, durable and cost efficient. Some of the most commonly used materials are;
A strong and durable material that is highly resistant to humidity and moisture. It is the most preferred since it is less expensive and has a prolonged lifespan.
Is strong and flexible. It has a light weight and offers good insulation to the pool. It is also recommended because of its' resistance to mould and metals that are corrosive.
Is also strong, flexible, light weight and has good insulation. It is resistant to corrosive metals and mold but is less durable compared to vinyl and polyethylene.
The process used in the making of these covers involves using polyethylene and polypropylene as the base. The two materials are cut into thin ribbons that are later woven into a compact material. The material is then thickened with laminated layers on both sides to make it strong. Protective chemical layers are then added for durability and prolonged lifespan.
Automatic Pool Cover Systems for Free-Form Pools
Free-form pools have unique shapes that require specific systems of installation. The commonly used system is the Infinity 4000. The system is considered to be very reliable and here are tracks that work well with this system.
Deck-Mounted automatic top tracks can be added to existing pools. The system is low profile and sits outside the shape of the pool. They come in different shapes and sizes with on deck boxes having a prices range of between $8000- $10000. They have an advantage of rounded edges that helps prevent falls and tripping. A bench is used to store the track systems including the motor.
Recessed top track system is low profile with rounded edges to protect you from tripping. They have tracks running parallel on both sides of the pool. The motor is housed under the pool deck. This system can be used for both new and existing free-form pools.
Manual automatic pool cover is designed to fit into small free-form pools. The covers are opened using a handle and closed by pulling on attached extended ropes. There are multiple color choices to these collections to suit your unique preferences. Manual automatic covers are reliably good, simple and flexible to any shape. They have a low profile that can be used for both new and existing pools. Their price range is $5000-$8000.
Advantages and Disadvantages of Using Automatic Pool Covers
Advantages
Safety is the most important aspect to consider when installing automatic pool covers. A covered pool is always considered a safe pool. You want to keep your kids and pets safe by protecting them from falling into the water. With an automatic pool cover, your free-form pool is considered safe even when you are not around to keep watch on your little ones. A cover plays the role of a fence if you do not have one.
Energy is conserved through reduced heating bills especially for pools that use electricity, gas, or solar for heating. The pool is able to retain its' natural heat from the sun and you do not have to warm the water when you need a dive. These less heating bills equal to energy conservation and more money saved.
Automatic covers help reduce evaporation during hot weathers. By using a pool cover, constant addition of water is reduced and the quality of your pool water is maintained. You will notice that you do not have to constantly refill your pool if you use a cover.
There is less maintenance when covers are used. No more regular cleaning and maintenance fees. Your regular maintenance company will have to visit you less often since the chemical and cleanliness of your pool is well maintained by the cover.
You always get to enjoy warm waters with an automatic pool cover due to heat retention. The cover helps to reduce heat loss during cold weathers. Daytime heat can be retained even when temperatures drop at night.
Imagine having to clean up your pool every time you want to swim. That is not a pleasant thing to do and that is why pool covers are installed to help you enjoy your swim instantly. Keep off Dirt and Debris from your pool with an automatic pool cover. This will save you on time used to remove twigs, leaves and shrubs from your pool.
A covered pool helps preserve chemical level by up to 65%. No evaporation means more chemical pH balance and reduced maintenance cost. The chlorine levels are kept at constant levels for longer period of times when using an automatic pool cover.
Automatic pool covers are the most convenient covers for your pool. The covers are easier to extend and retract. With the click of a button or the simple turn of the key, you are able to easily access your pool and enjoy a good swim. With another press of the button, your pool is well covered from dirt, is safe and well maintained.
Disadvantages
As with every pool, there are both the upsides and downsides of all systems. Let's have a look at some of the disadvantages of automatic pool covers on free form pools.
It is pricey to install automatic covers. It is equally expensive to keep them in good condition. Extra money is needed when purchasing additional covers during winter, employing workers to clean the pool, and keeping the covers in good condition.
Replacement of pool covers is done every 5-6 years. After this period the material is not considered 100% safe for your pool. It is therefore an expense since regular replacement is required to avoid extreme tears and ensure maximum safety for your family and pets.
Excessive snow can cause irreversible damage to your pool cover tracks. You should therefore consider having additional safety covers for winter seasons. This will mean extra costs and additional pool maintenance routines during winter.
Pools with automatic covers tend to overheat more during the hot season. This makes it uncomfortable to swim in the pools since most people prefer cooler waters during hot seasons.
Cases of excessive chlorine levels are common if inspections are not done regularly to control the level of chemicals. Constant check-up is, therefore, required to maintain a balanced Ph.
Safety Lids for Automatic Covers
If you want to keep your automatic safety covers safe, then you will have to consider installing safety lids. Lids come in different ranges and designs. Here are a few lid types that can be used on free-form pools;
Standard Aluminum Lids are economical. They are low profile and can be installed on finished pool deck. They are made from clear anodized aluminum and can be used with any housing or deck. Their cons, however, is that they cannot be walked on, their end edges are not beveled, and they have limited hinge range.
Flush Lids are designed for any housing and are appropriate for concrete decks. They can only be used for new pools. Flush lids cannot be walked on. However, additional brackets can be added to allow walk-ons.
Flat Lids are installed both on new and existing pools. They have beveled edges and extended hinge ranges. They cannot also be walked on but an upgrade on their standard bracket can allow for this.
Step – on Lids. As the name suggests, this lids are designed to allow walking on without experiencing any breakages.
Taking Care of Your Pool Cover
It is important that you keep your automatic cover in good condition for durability and cover efficiency. Covers that are well taken care of have a longer lifespan and are less susceptible to regular tear and rips.
Always ensure that the pools water levels are at mid-skimmer. Too little water can cause sagging of the cover because of the weight of debris and snow. The sagging can lead to rips because of the strain put on the tracks. Too much water, on the other hand, can lead to an overflow of water in the system.
Use pool brush, pole and pump to clean out dirt, debris, snow and water on top of the pool. Do this regularly to keep the cover clean.
Clean the cover every 2-4 months to get rid of chemicals that may have accumulated on the cover due to an overflow of pool water.
Inspect the tracks and motors yearly. Have an expert clean them and tighten all the loose items. Replace all worn out part.
Check for any holes in your cover regularly. Use recommended patch kits to cover all rips and tears. Covering the holes will help increase the lifespan of your automatic cover.
After pool maintenance and cleaning, leave your pool open for a while. This will help protect your cover from chemical reactions from newly added components.
A look at the use of automatic pool covers for free form pools shows that the following points are to be put into consideration for the overall success of the installation process;
Easy to operate.
Easy to maintain.
Blend well the natural surroundings.
Is safe for family and pets.
Saves time and money.
Has a good review and reputation.
Holds the highest standard in the pool cover specialist forums.
Offers accessible support and training on installation and maintenance.
Is compliant with the code of conduct of pool cover.
Allows installation for both new and existing pools.