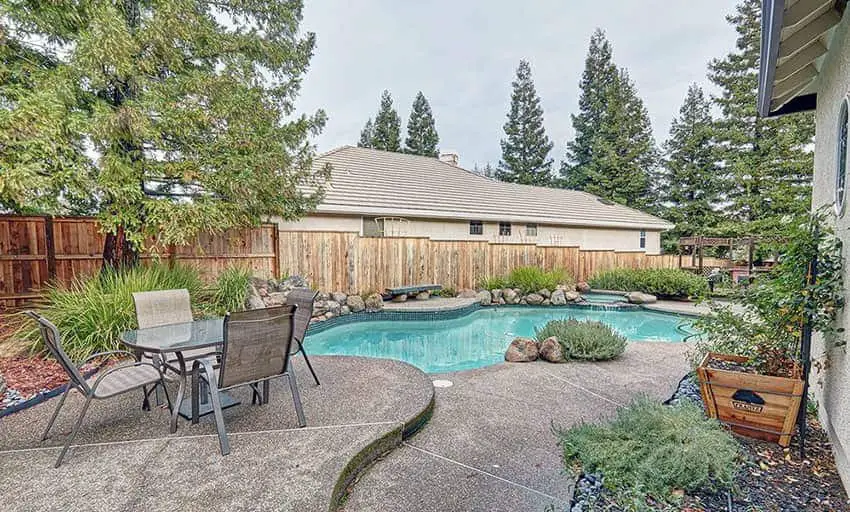 While having a pool is about fun with family and friends, there are important safety regulations to consider as well. Fence barriers and automatic pool covers are both great ways to help restrict access by unsupervised children.
Do you need a fence if you have an automatic pool cover? Your local state law may require you to erect a fence even if you already have an automatic pool cover. California's Pool Safety Act (State Law SB442), for example, mandates homeowners have at least 2 of 7 recommended safety measures installed.
Automatic pool covers are a relatively new technology, and governing bodies were initially uncertain regarding their effectiveness as a safety measure. But as more has come to be known about pool covers, regulations have been properly updated.
While there's still no truly universal answer, the above-mentioned California State Law is a good starting platform.
Safety Requirements for Residential Swimming Pools
As per California State Law SB442, in effect from January 1, 2018, all residential swimming pools must include at least 2 of the following safety features:
An enclosure that properly isolates the swimming pool from the house. This enclosure must comply with Section 115923, and can be either a fence or wall. In order to properly meet the requirements, the enclosure must have an access gate that opens away from the pool, with a self-closing latch at least 60 inches from the ground. Additionally, the fence or wall should also be no shorter than 60 inches, start within 2 inches of the ground, and have gaps no bigger than 4 inches. It should also have nothing on the outward face that can be used as hand or footholds.
A removable mesh fence that properly isolates the swimming pool from the house. The fencing must comply with the American Society for Testing and Materials (ASTM) Specifications F2286. If you have a removable mesh fence, it has to be a minimum of 48 inches high, with a self-closing latch gate that can accommodate a padlock and opens away from the pool. This lock needs to be at least 54 inches from the ground and face outwards, not toward the pool. There also needs to be at least 20 inches between the inside of the fence and the edge of the pool, no more than 1 inch from its bottom and the ground, and no gap wider than 4 inches. Similar to Feature 1, there should be no possible handholds or footholds. In the case of a removable mesh fence, the vertical poles should also be spread far enough apart so that they cannot effectively be used as climbing frames.
An approved safety cover, which is defined in subdivision (d) of Section 115921. In order to meet the requirements, the cover must comply with ASTM Specifications F1346-91, but can be either automatic or manual. F1346-91 requires that the cover be able to hold at last 485lbs (estimated average of 2 adults and 1 child) for rescue operations. It should also pass a Perimeter Deflection Test to ensure that the test object cannot pass through any openings, in order to prevent accidental entry and/or entrapment. Additionally, there's a Surface Drainage Test, devised to safeguard against water collecting in any dangerous amount on the cover, which must also be passed. The product labeling must also include proper user information, such as the warranty and appropriate warnings.
Alarms on all exit doors and windows leading from the house to the pool area. Whether an actual alarm or a repeated verbal warning (e.g. "The door to the pool is open"), when activated it should make a continuous sound any time any door or window leading to the pool is open. This isn't necessary if you have an enclosure and/or safety cover, but is highly recommended if there are no such barriers.
Self-closing latch, with a release mechanism no lower than 54 inches from the floor, on any and all doors leading to the pool area. This is recommended for all types of doors, including sliding doors, especially if there is no fence, wall, or cover barrier for the pool.
A pool area alarm that will sound if there is any unsupervised or otherwise unauthorized entry into the water. This alarm must meet with the ASTM Standard Safety Specification for Residential Pool Alarms (F2208), which includes surface motion, sonar, pressure, laser, and infrared alarms. A personal alarm attached to a person's body will not qualify. In order to meed the requirements, the alarm must sound both at the pool and in the house within 20 seconds of entry, be placed (with an energized lamp) within a foot of 10 feet from the edge of the pool, with a 45 degree angle of view. Additionally, it must produce a sound about 85 decibels and have a low-battery indicator (if battery operated), be able to automatically reset. If you install a wireless alarm, it has to be FCC Part-15 compliant.
Any other means of protection, provided it offers a degree of safety equal to or exceeding that of any of the first 6 recommendations. If you to do opt to go this route, then your system must be independently verified by any approved testing laboratory. In order to comply with SB442, it must meet the standards of either the ASTM or ASME (the American Society of Mechanical Engineers).
As you can see from the above, if you reside in California then you may or may need a fence if you have an automatic pool cover. It all depends on whether or not you meet one of the other 5 legal requirements.
But what if you don't live in California?
The good news is, you can probably still use the above as a guideline. For the most part, local state laws have been updated to adopt the International Swimming Pool and Spa Code (ISPSC).
Be sure to check with your local government if you have any doubts.
Pros and Cons of Pool Covers
As with all things in life, there are both pros and cons to having a pool cover (whether automatic or manual).
Pro: Heating
Let's face it – sometimes the water is just too cold to comfortably swim in for too long. But most pool covers are made of heavy-duty vinyl, which can add 10-15 degrees to your pool temperature. This makes them much more efficient than solar covers (which aren't compliant with most safety requirements).
And if you have a heat pump, then your pool cover can save on your operational costs.
Con: Too Much Heat
Unfortunately, the flip side of the pro is that your cover might increase your pool temperature too much. When this happens, you'll need to remove the cover to let the water cool down for a few hours (or even a few days).
This has the unfortunate side-effect of rendering the cover redundant as a safety measure, though.
Pro: Keeps People Out
Of course, safety being one of the main reasons to install a pool cover, their efficiency in keeping people out of your pool is a major pro.
And if it meets the weight-bearing requirements, you can even walk over your pool. It feels like walking over a water bed.
Con: Keeps People Out
The flip-side is that it might keep people out when you want them in your pool.
A good rule-of-thumb is if you're planning on having a pool party over the weekend, remove the cover on the Wednesday evening. Not only will this help make sure the temperature isn't too high, it also gives you a few days to have a serviceman repair your cover if it doesn't open.
Pro: Dirt Stays Out
Pool covers do a great job of making maintenance a whole lot easier by keeping dirt out. Not only will your pool stay cleaner for longer, but the cleaning process will be a lot quicker too.
Con: Chlorine Stays In
Chlorine usually dissipates without a pool cover, which is how it should be. But your cover prevents this from happening – and the chlorine can corrode the metal parts.
An easy fix is at hand, however: simply monitor your chlorine levels and keep them low. The same applies for salt if you're using it as an alternative to chlorine.
Related Questions
What if local law requires a fence but I prefer an automatic pool cover? Apply for variance. If your local government is flexible enough, they'll allow you to use your automatic pool cover in lieu of a fence or other enclosure. There's no guarantee that you'll be successful, but it's a logical first step.
What if my application for variance is denied? Find out what channels you can take to influence your municipality to adopt the updated pool safety regulations that allow for pool covers in lieu of fences. There's no guarantee of success, so determine beforehand whether it's worth the effort.