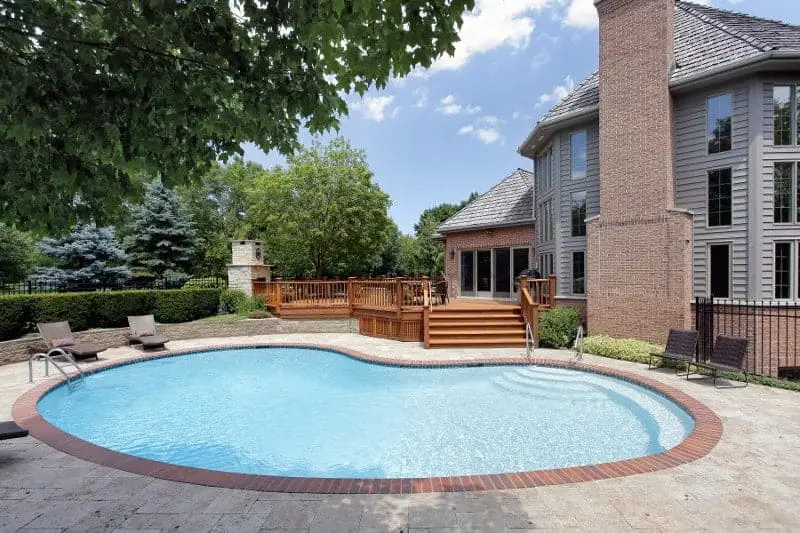 Before you are thinking of getting a swimming pool, it will be best to contact your homeowners insurance company first. The impact of swimming pools on your homeowner's insurance can be significant. Many insurance companies see them as a liability and as an "attractive nuisance."
How much does a pool under homeowners insurance cost? According to Zacks Investment Research, insurance companies most often recommend increasing your liability coverage from $100,000 to $500,000 when you are installing a swimming pool. In states where swimming pools aren't common, you may see a $50 to $75 increase to your homeowner's insurance annual premium. In areas like Florida, where insurance companies commonly see residents having pools, the increase may be less.
Are Swimming Pools Covered under Homeowners Insurance?
Yes, depending on what type of swimming pool you have, most are generally covered. If you have a in-ground pool or a permanently installed above-ground pool you will most likely be covered without any issues. If you have a portable-style pool or a temporary above-ground pool then most likely you will not be covered under homeowners insurance. Most likely you will be covered under personal property coverage. If you are unsure if you will be covered, you can always call your insurance provider and simply ask them if you would be covered.
Does Homeowners Insurance Cover Damage to My Pool?
Homeowners pool insurance covers any property damage to your pool if it's caused by a covered peril. A peril is a risk or disaster or cause of loss, and so a covered peril would be what homeowners insurance would cover. Covered perils are often covered by the main component or the dwelling coverage of homeowners insurance policy that includes your house and roof.
The most common types of perils that are covered include:
Fire
Hail
Lighting Strikes
Vandalism
Explosions
Vehicle Collision
Perils that may effect a pool and aren't covered include:
Earthquakes
Water Damage, as flooding or foundation cracked due to freezing
Neglect
Wear and tear, as ripped liners
Depending if your homeowners insurance will pay for any repairs depends on the type of coverage you have, your coverage amount, and your deductible. The deductible is the total amount you pay out-of-pocket when you file a claim for damages. If you want to end up paying less out-of-pocket you may want to consider trying to lower your deductible. Keep in mind, a lower deductible has higher premiums, and a higher deductible has lower premiums.
Will Homeowners Insurance Require a Fence Around the Pool?
Many insurance companies that offer homeowners insurance will require your pool to be enclosed by a gate for you to be eligible for coverage. Your insurance provider can explain further on the exact requirements regarding fences for both above-ground and in-ground pools.
Will Homeowners Insurance Cover My Pool if it Has a Slide or Diving Board?
If your backyard swimming pool has a slide or diving board, some insurance companies may refuse to cover you at all. In many cases they will make you sign an exclusion, which states that they will not cover any injuries that result from a slide or a diving board. They may take into consideration if you have younger children using the slide or the diving board. Keep in mind that if you want your slide or diving board covered that they meet manufacturer requirements for depth and height from water.
How Much Will My Taxes Go up with an Inground Pool?
The short answer, yes. You are generally pay a certain tax rate per $1000 on your assessed valuation, such as 50%, depending on your local and state exemptions. If your tax rate is $3.10 per $1,000 with your valuation and with a 50% valuation. Your taxes would ranges anywhere from $316.20 and $337.90. Check with your local and state exemptions and deferments for improvements, but whether your pool is worth some additional property tax is up to you.
Does Adding a Pool Increase Property Value?
There will be several factors whether your pool increases your property value. Some of the factors include:
If you live in a higher-end neighborhood and most of your neighbors have pools.
If you live in a warm climate that doesn't experience much seasonality, such as Florida or California.
Your lot is big enough to accommodate a pool and still have some yard left over for gardening or playing games.
There is still no guarantee that you will get a return on your investment. In best cases, your home value might increase 7% to 10% if all circumstances are right when you decide to sell. Some of those circumstances were listed above.
Conclusion
When it comes to time to find insurance coverage for your swimming pool, the key is to read the contract and the fine print top to bottom. To avoid any headaches, it's very important to be transparent with your insurance company and disclose any changes around your home. Some insurance policies have a certain limit for claims, you may want to apply for the umbrella liability protection that your homeowners insurance has to offer to increase your coverage and limit for liability.