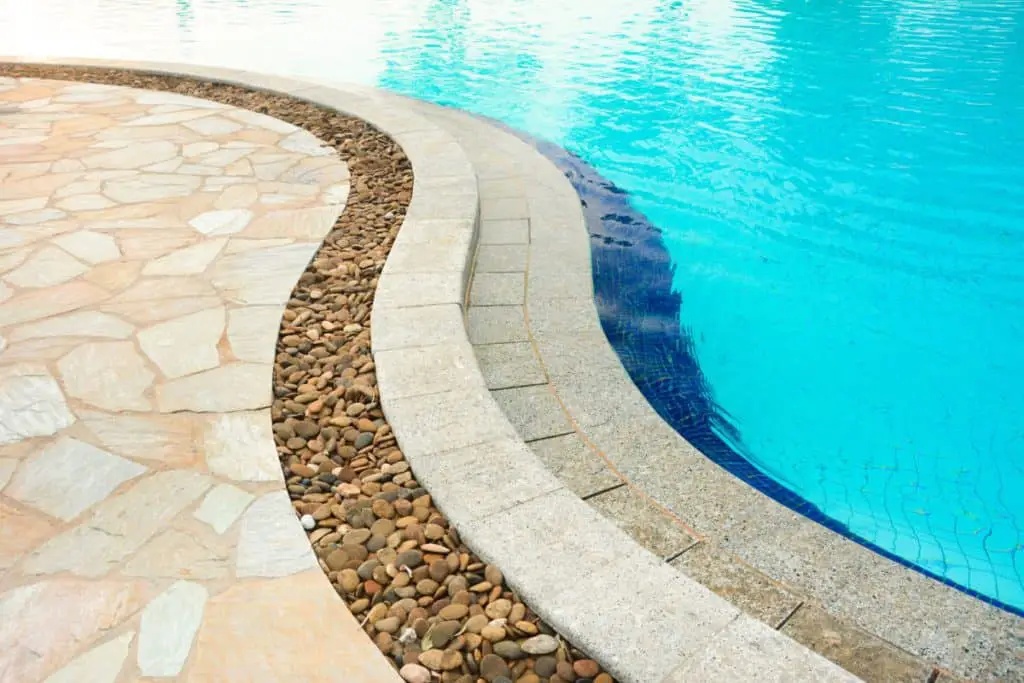 Inground swimming pool always invites you to a relaxing float on a summer day, a pool bonding with the kids or a weekend barbeque party at the side. Making a splash in your swimming pool can give you a break in tiring and stressful work or a long week of school activities. A perfect gateway of relaxation to all family members.
Whether you are looking to install a new swimming pool or upgrade an existing one, make sure that your in-ground swimming pool to dive in. As most of the family happiest moments happen in your backyard pool, it is better to keep your pool a perfect background on those memories with the right pool design complemented by a durable and safety pool coping to complete the overall aesthetics.
Pool coping is used to identify the concrete or stones materials used to cap the pool shell wall. It is an essential part of an in-ground swimming pool as it sits above the pool structure that bonds the beam and covering the steel rods that surfaces from the wall. The utility and safety benefits of the pool coping making every pool owners to properly choose the right borders for their in-ground swimming pool. In this article, we will discuss more about the pool coping so we can grab the right coping in the market.
What is Pool Coping?
As construction is a concern, coping means as the protective cap or lip at the top of the wall that serves as finishing material that protects the wall from elements. Same as in swimming pool construction, coping covers the top edges of the pool structure to protect the tiles and plaster. The pool coping separates the structure from the decking making with smooth edges and keeping the excess water away from the deck. A finishing touch that serves protection so the in-ground swimming pool will be safe to use and the edges might not injure any swimmers.     
Coping for an in-ground swimming pool can be made of tile, natural stone or precast concrete. Companies specializing in products for pool decks also use different types of pool edging materials. A typical pool coping design comes in a smooth outward slant to achieve a seamless look between the pool and the deck and provides a decorative accent for the pool.
As it enhances the appearance of the pool, coping is a necessary part of an in-ground pool as someone inside the pool, they will grab the coping to hang on the top edges or getting out of the pool safely.  A coping should be tilted slightly from the pool, so any water splashed out should flow away down to the deck drains. Same as other parts of the swimming pool it needed proper installation and maintenance for a longer period of service.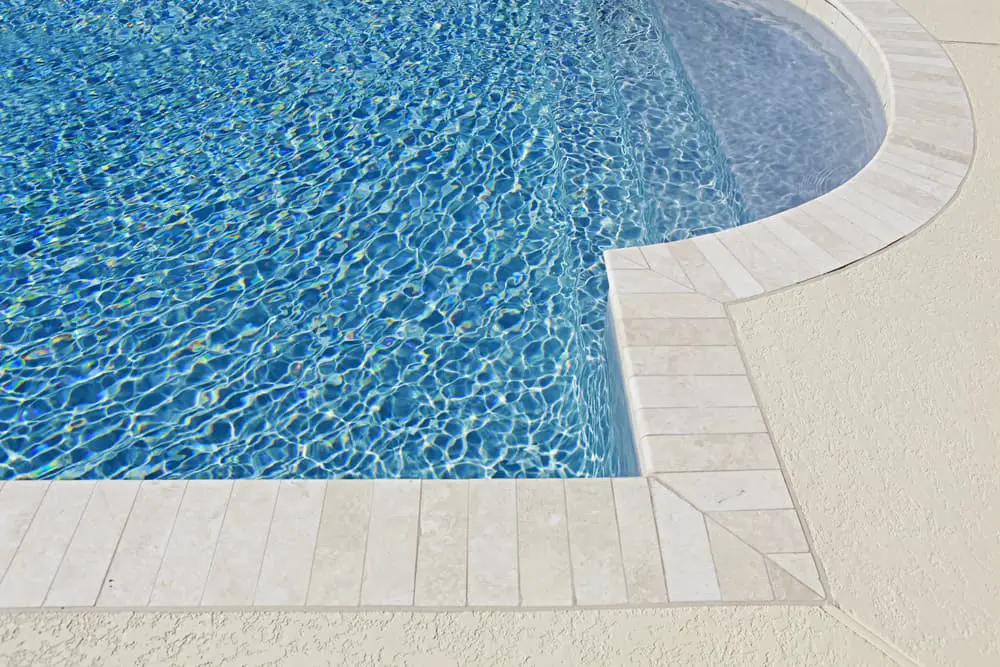 Coping Up On Purpose
Aside from a decorative concealer of swimming pool concrete edges, it serves other important purposes to make our in-ground pool more than an appealing backyard pool. Its primary purpose is to control the water splash out to stay on your deck by flowing it away to the deck drain. Coping blocks water from penetrating the construction behind the pool shell preventing potential damages.
Coping provides a non-skid surface upon which swimmers can walk through the deck and a safe and steady way going in or out the poolside reducing slipping incident. It also serves as an attractive cover for pool mechanical components. With a wide range of colors and designs, a coping can be an alternative for the pool landscape as it can also add vibrancy and color on your pool area. You may give your personal touch to improve the overall appearance of your in-ground swimming pool.
Coping Considerations
Finishing your pool construction can give you a mind-blowing of options and designs. The design and materials you will choose can affect if you are looking for a resort-style experience. Choosing the right pool coping you must consider the long-lasting durability and safety with the desired look you want to achieve. Deciding which is best for your pool can be confusing, a surrounds structure not just a functional border but it can also create a decorative element for visual appearance. We need to cope with different considerations for the final selection of your pool coping materials and style.
Safety. Pool coping is the most surface to get wet outside the pool area. This is the entry and exit point of the swimmers so you need to choose an etched or matte finish coping that provides some traction that prevents the risk of slipping. You must avoid highly finishes and materials that are prone to cracking with rough edges that can be dangerous to swimmers.
Durability and Maintenance. This is one of the factors that usually forgot in pool construction. Some materials require less maintenance than others. You may check coping materials with sealants that provide traction, resist staining and reduce the damage from pool chemicals and natural environment. It requires regular maintenance in patching due to cracks. Patching may appear unsightly and difficult to match colors and be faded with the ray of the sun. Limestone is one of the most durable material for coping, it can hold up constant use and seasonal weather. It also requires some maintenance by frequent sweeping to remove debris.
Appearance. With a wide variety of materials, your desired pool design is an easy project. You must choose pool coping materials that are cut in consistent clean lines and ensure a non-skid surface. The array of available colors, textures and finishes are up in the market making your in-ground swimming pool an inviting scenery in your backyard.
Price. The least expensive pool coping is precast concrete. The less the budget the less in appearance and the ability in a customizable design but a higher maintenance cost. Consider the long-term investment in a lower maintenance cost in time.
Pool Coping Styles. Make sure that your pool feels like an extension of your home with its win out appearance, safety durability, maintenance and a long-term value of your investment by selecting the best materials and type of pool coping. Now let us check the most common pool coping styles.
Flat-mount coping. Flat-mount coping is a path that secures the swimming pool liner and forms the installation platform for stones, pavers and other materials.
Top-Mount coping. One of the most common styles in pool coping. It forms a gentle, rounded protruding edge for comfort and usability and then slopes downward away from the water. It finishes the pool edges for a poured deck.
Rough-cut coping. Pool coping where stones are used in a more natural, organic and textured state.
Cantilevered coping. Cantilevered coping or square edge, uses foam to provide a finished edge for concrete. It allows the deck to blend naturally with the pool's edge.
Bullnose coping. It is a gentle, comfortable cut that is easy on the eyes and swimmers going in or out of the water. Bullnose coping has a flat, back sloped surface and a curved front face that's flush with the pool wall.  
Pool Coping Material Choices. Finishing and protecting your pool with the right choice of materials can now be an easy decision with our list of coping ways and factors to consider. Now it is a matter of your personal preference which you think can complement the pool design you already visualize. 
Poured concrete. A material that can create a seamless edge between a deck and the pool for a unified design. With poured concrete, you can make your pool look larger. A downside of a poured concrete is susceptible to cracks due to extreme temperatures.
Bricks. One of the popular choices in pool coping is the usual home decoration. Bricks are durable and easy to replace, a naturally water and weather resistant.
Natural Stones. Another popular pool coping materials with its visually stunning look. With its natural slip-resistant feature, it requires less maintenance. Durable materials for pool coping can stay cool even under the sun. You must ready to increase your budget if you desire to have a natural stone pool coping.
Concrete Pavers. An alternative to natural stones, concrete pavers are also available in a wide array of colors and textures. It has the durability of natural stones at a lower cost in money and maintenance. 
Precast Concrete. If you need patterned designs you must go with precast concrete. With a wide range of designs that can blend with other stones and concrete materials. It not as seamless as poured concrete means more maintenance is needed.
Composite Materials. For a natural look pool coping, composite materials can give you very versatile designs of your choice.
You may explore your options when choosing the right coping for your in-ground swimming pool. Take time to familiarize yourself more with the help of the above factors, ways of coping and materials to choose from. Enjoy your swimming paradise with a durable and beautifully designed pool coping that improves your pool safety and functionality.