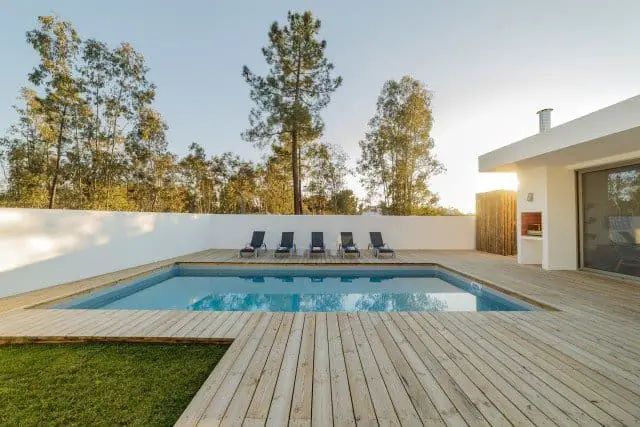 The swimming pool becomes a common backyard structure in most residential and commercial properties. As an additional amenity, it is not just a water oasis of fun and relaxation but also completes the aesthetic beauty of a property. Completing your pool construction with an inviting surrounding creates a seamless extension of your properties exterior. The trend in outdoor design today is installing a decorative concrete pool deck.
A pool deck can complete the look and style of your entire swimming area and backyard. Your pool deck is the immediate area around the pool. A colored, textured and inviting area surrounding the pool that does more in providing a safe, slip-resistant deck perfect for sunbathing and other backyard activities. It can make your backyard as livable and convert into your new outdoor living space and can be a perfect place for family fun.
Planning to innovate your poolside and consider constructing a pool deck? In this article, you will get everything you need to know about the swimming pool deck.   
Pool Coping is Not A Deck
Some of the pool owners are confused if a pool coping is the same with a pool decking. Those are two different parts of a swimming pool structure. 
Pool coping is the edge of the cap you see around the outside perimeter of the pool. It is normally 12 inches wide and usually made of concrete or stone. Pool coping bridges the pool area to the pool deck.
Pool decking is much wider and it is also known as the pool patio. This is the hardscape area around the pool where you place tables, lounge chairs, BBQ grill, and other backyard furniture.
You can choose coping that complements your decking or you can select to accent it. Make sure that the coping and decking that blends in your pool design for a more sophisticated look.
Things to Consider When Choosing Decking Materials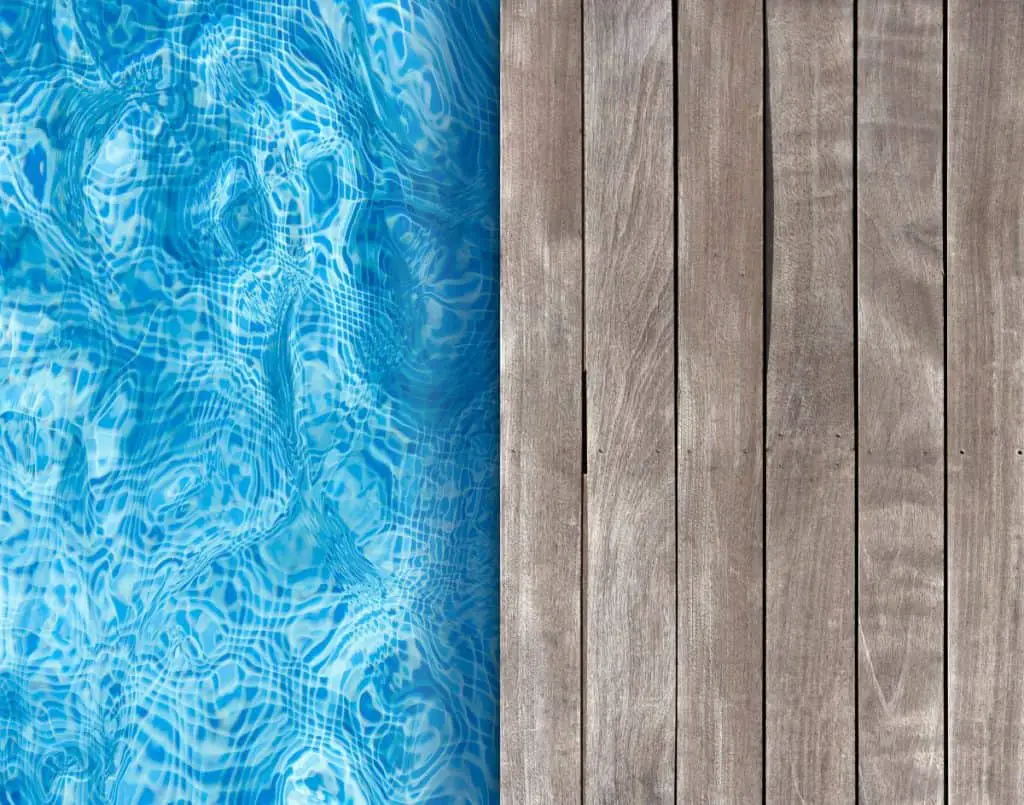 Aesthetic appeal is not the only reason for installing a pool deck. This pool hardscape has some functional elements to consider.
Safety is obviously the most important. Keeping the swimming pool deck safe and dry is a key part maintain the pool safety. Look for some material that won't get slippery when wet. 
Prevent uneven, bumpy or rough material that can cause minor accidents for the swimmers.
Choose a heat-reflective material that keeps the pool deck cooler even under the ray of the sun.
You may choose materials that can resist algae, chemical residue, acid, mold, and frost.
Select materials that complement other pool hardscape or landscape within your backyard for a seamless look from your outdoor design through your pool.
With these factors, you can limit your choice of materials for your pool deck with a wide array of choices in the market.
Decking Materials
When planning your pool decking, you consider a lot of possible materials to attain your imagined look perfect for your pool. With the flexibility in designs, your pool decking allows you to create a unique look for your entire poolscape. Let us take a look at the variety of pool deck materials and their special features.
Concrete
It is a very common choice in pool decking due to its affordability. Concrete offers a wide variety of colors and finishes that can match many different aesthetics. It can be either broom finished or stamped. Broom finishing creates a standard concrete look while stamped concrete can resemble in stone, tile or brick.
Concrete decking can be marked and stained with your choice of colors, patterns, and textures and can be sealed with a spray-on, slip-resistant finish. Aggregates materials will give concrete more texture to make it less slippery. 
It is easy to maintain and feels good underfoot. Concrete does not get too warm even under the sun or temperature rises.    A concrete pool decking must be poured by a professional or you must be knowledgeable in installing it. Another restriction of concrete is based on climate. Concrete may not be the best choice if you live in an area with cold weather. Freezing and defrosting will almost certainly crack the concrete over time.
Wood
Another popular material in pool decking is the wood. There are lots of wood varieties available in the market. Wood is low-cost, easy to work with and creates a beautiful, natural appearance. It is also a good choice for an irregular-shaped pool and landscapes. 
With its proximity to water, maintenance is especially important. Wood decks require seasonal maintenance of cleaning, sanding and sealing to prevent color loss and damage. 
Composite Wood
Look like real wood but actually made in plastic-like synthetics. With its composition, the maintenance is much lesser unlike in real wood. It won't fade, splinter or rot even after consistent exposure to water and sun. Same with traditional wood, it is available in different colors. The only downside of composite wood is it's far more expensive than the traditional wood.
Stone
Stone is another natural-looking material for your pool deck that enhances landscaping and architectural features. Its natural texture and friction make it slip-resistant for safety. Stone is durable, affordable and stylish making it the most popular decking material in all types of climate.
The typical installation, large stones are finely cut then assembled into a layer of concrete that helps prevent any movement over a long period of time. 
Stone's stylish look and durability make it the most expensive option for pool decking. Though, the variety of design options and quality is often hard to beat.
Pavers
Pavers are one of the easiest poolside decking materials to maintain. It offers plenty of different design options. Pavers are available in a variety of shapes, sizes, and colors. You can even create a unique pattern. 
Pavers are bricks made from concrete or stone and arranged in an interlocking pattern and then installed on top of the stone or sand base. Pavers can be cured before placement so that they are far less likely to crack or become damaged.
Pavers have a relatively high cost compare to other decking materials. 
Tiles
An elegant and clean look for any pool type. Unglazed tiles are used for pool decking to avoid slippery for safety around the swimming pool. It can create a seamless indoor-to-outdoor transition if the same tile is used. You can find tile in a variety of other shapes and sizes to create a sophisticated look. You can even choose specialty tiles that resemble stones, marble or wood. 
It is the easiest and quickest material to install They can be set into practically any type of existing surfaces like wood, concrete or even bare ground. Self-adhesive tiles are also often a good choice if you want to expand the size of your existing deck. A great way for your swimming pool deck renovation.
The downside of tiles is it needed to provide better traction than the smooth-as-glass feature so it won't be that slippery.
Artificial Turf
Want to look a freshly cut lawn, synthetic grass might be the best material for your poolside. Because it is not real, there is no need for regular maintenance. It also never gets brown or dry-looking. 
Pool Decking Construction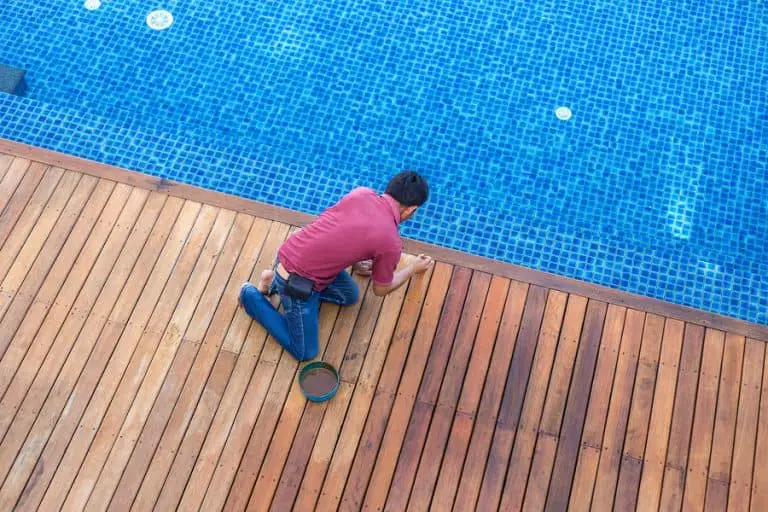 After learning the common and popular materials for pool decking, you are ready to build the perfect pool deck for your pool. Incorporate your preferred pool decking with your backyard overall design.
You have the most independent decision in developing your pool deck as an extension of your pool that complements the pool shape and surrounding landscape. Carefully choose materials that provide durability, safety and beautiful appearance. 
Take advantage to choose high quality and absolute best-looking pool decking you want to relax and take your fun time before plunging directly to the pool area.
Enhancing Your Pool Deck
Create a more comfortable and relaxing atmosphere by enhancing your existing pool deck. 
Additional landscape. The pool deck may not be enough in achieving the natural look for your pool area. You need to use landscaping to frame your pool deck and soften the concrete hardscape. Use blooming plants sparingly and plants with multi-colored foliage to provide texture and visual interest. Your plants can also be used as a security fence that creates living privacy walls of grasses and vine-covered trellises.
Use of lighting. Consider uplighting the architectural elements to have your backyard some magical feeling. Lights in the pathway and outline of the pool area do not only give extra delight but also improves safety in your pool area.
Extend your living space. Maximize the use of your pool deck and backyard by turning it into a living space. An outdoor kitchen sounds good or a relaxing corner with a piece of comfortable furniture and an umbrella-covered table. It can be a new place in your home for family bonding and activities.
Provide plenty of seating and soothing sounds. Swimming can be both exercise and relaxation. Isn't it relaxing if you are just seating and relaxing in a bench and all you can hear is the wave of water from the pool or the manmade waterfalls? You can also accommodate guests at your pool area with a concrete seat wall or benches around. Having water features adds beauty but also help to muffle unwanted noise from neighbors. 
Extend the play area. Turning your backyard into a concrete playground for your kids by making your pool deck a safe place for adults and as well for children extending the available space.
Your pool deck provides you even more opportunities to design an inviting environment. You can create a simple and beautiful space for lounging or outdoor living area for entertainment. Your deck should be a placed to enjoy the scenery while minimizing noise both to and from your neighbors for a relaxed body and mind. It also plays an important role in pool safety. Improve your swimming pool by building your affordable, safe and beautiful pool deck.