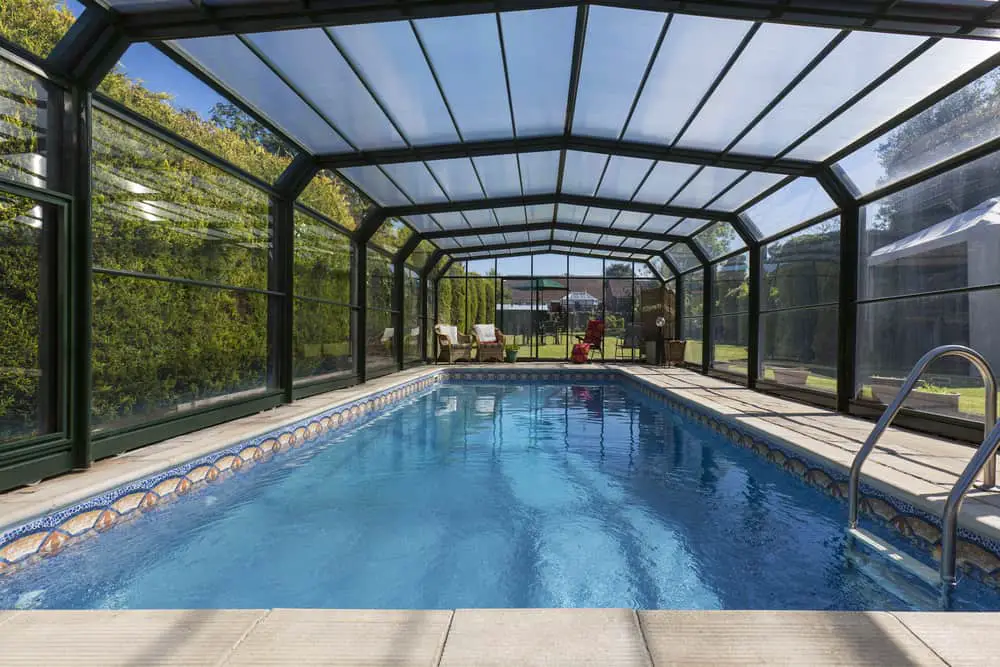 Taking all-day swimming at your own backyard seems to be an enjoyable family bonding. A fantastic place to pop down on the pool for a lot of fun and positive memories in the comfort of your home. It is a good investment to make your pool a relaxing area by enclosing it away from annoyances with the help of a pool screen enclosure.
Most of the homeowners at Florida, the southernmost state of the United States, were the first to install a screen enclosed pool. Due to the climate, the sun and bugs, pool screen enclosure became popular in the state of Florida and later on in many other places.
A structure that encloses a pool that has a vast range of design and overall appearance that changes from bulky to very sleek constructions motivates pool owners to install enclosure. 
Turning your swimming pool as a backyard sanctuary maybe a bit hard with different environmental constraints.
A screen enclosure may offer protection from the sun and heat as well from bugs and mosquitoes. Also with growing awareness of the Zika virus, people are looking to screen off pools. With the help of other pool equipment and an aesthetically pleasing screen enclosure, you are on your way enjoying your swimming pool uninterruptable and more likely to spend time outdoors.
If you are now considering to invest installing a screen enclosure, you must check some benefits an enclosure have to offer and its possible cost.
Benefits of a Pool Screen Enclosure
There are so many benefits a pool enclosure and we are listing the most significant benefits having your pool completely screened in.
It gives additional space for your pool area. The feeling of security like you are inside your home can be felt even you are in the backyard, yes it can be done, with the proper pool screen enclosure. It can also give a transition space, comfortably and with privacy. Pool screens ensure that there are no unauthorized persons accessing the swimming pool area. It creates another living space or an outdoor kitchen or just a relaxation space. 
Effective protection from sunlight. Lessen lathering up your sunscreen and grab your pool accessories and plunge in the pool without worrying about the sun's UV rays. It gives a minimum exposure to direct sunlight to avoid damage to the skin after a long time of swimming. It did not just protect our skin from the sun, it can also extend the life of chlorine applied to the pool.
Preventing dirt and unwanted intruders. Screen enclosures provide security from insects, dirt and debris, and unwanted animals into your swimming pool. It is not a fun sighting if we find one of them in the pool. A more relaxing pool experience with your friends and family is great away from mosquitoes and flies. It also secured the pool from unwanted swimming that may cause drowning or accidents.
Easy pool cleaning. Getting away dirt and debris guarantees your filter smooth operations and decreases the frequency of maintenance. There is never much to clean out and your pool cleaning system will work better. The pool chemicals also prolong its effects for a quality performance means a lesser chemical application.
Water evaporation reduction. With direct exposure to the sun, water evaporation can easily lower the level of your pool water. You can slow the process with the help of a screen enclosure for a lesser water refilling.
Aesthetic improvement in the pool area. A perfectly designed pool screen enclosure for your pool area can add extra value to your home. Hire a designer that can visualize the suitable enclosure that extends the relaxation of your home to your backyard swimming area.
The popularity of pool screen enclosures is due to the above benefits it can offer to the pool owners. Making a year-round swimming activity possible with the ease of maintaining the pool clean.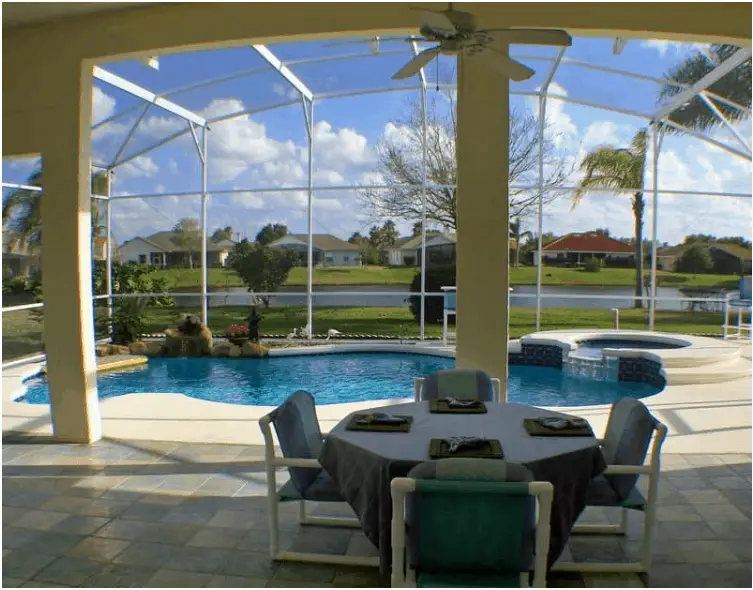 With so many reasons to invest in pool enclosures, there are downsides with this structure.
As the enclosures blocks sunlight, it can potentially leave the pool water and pool area too cool.
It can also block sighting from your property where you will install the structure.
The structure requires regular cleaning and maintenance like any other structure.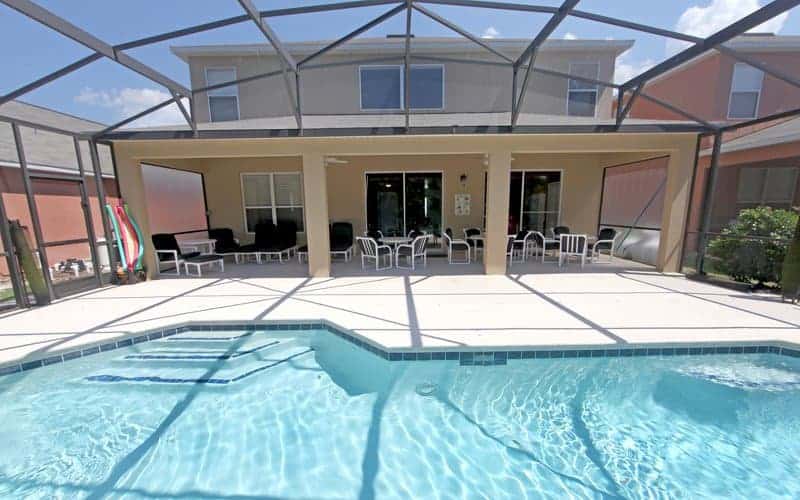 The major factor to consider in investing in a screen enclosure is its cost. With that, we will screen the possible cost for a pool screen enclosure.
How Much It Will Cost To Build a Pool Screen Enclosure?
You can create an enclosure based on your personal style, design sense and architecturally compliments into your home. Typically it ranges from 6 to 8 dollars per square foot, so you better prepare thousands of dollars for an average-sized swimming pool. The cost building of a pool screen enclosures may vary based on different aspects to be considered.
The size of the pool screen enclosure can vary considerably depending on the area you want to use for the pool, the number of possible pool users and how accessible to get into the enclosure.
Below are the enclosure sizes you may check:
Low Pool Enclosures. This size typically goes about 1 to 2 feet above the surface of the pool. It only surrounds the pool only and may cost at around 25 dollars per square foot.
Medium Pool Enclosures. The more cost-effective enclosure giving enough space in and out of the pool and not high enough to prevent obstruction of important views.
High Pool Enclosures. Enclosure with a room type component with a full-sized ceiling that can be higher than your home.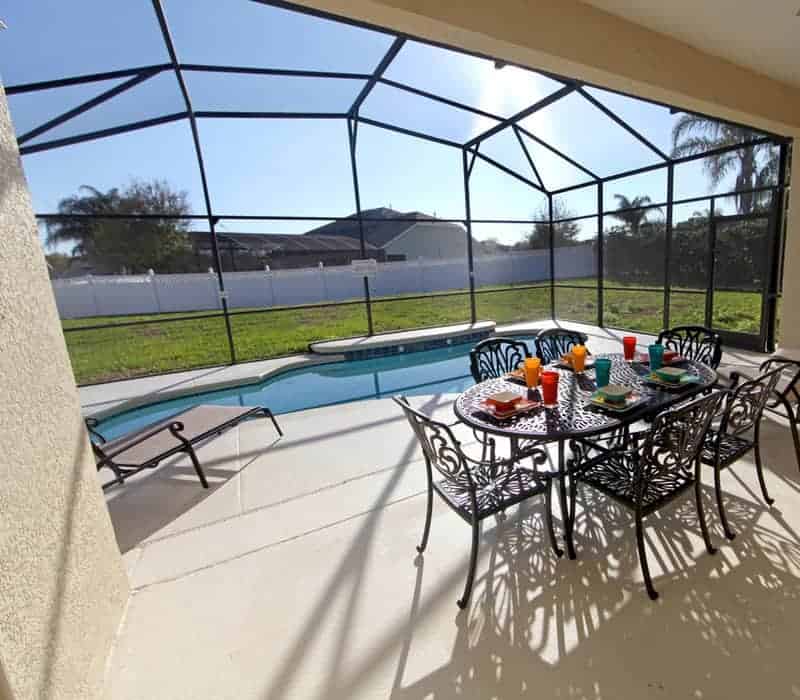 An average pool measuring a total of 504 square feet has the total estimated cost of about 8,000 dollars using the average materials and hourly labor. There is also a DIY screen pool enclosures available in the market with an average cost of 5 dollars per square foot.
Looking into this, screening your pool yourself can make you a lot of savings. Before doing such a job, also the regulatory requirements in building enclosures within your area. You must conform to quality and safety standards implementing in your area.
If you come up with the decision of installing a pool screen enclosure, you must also bear in mind the proper caring and maintenance of these structures. As the enclosure helps to keep your pool clean, you as the pool owner can help the enclosures clean.
The frequency of cleaning of the screen enclosure is based on algae formation. As frequent the algae formed within the screen, you must immediately clean it. If there is no algae formation, you may clean the enclosure every six months.
A dirty pool enclosure affects the overall appearance of a home and becomes a neighborhood eyesore. It would also affect the airflow of the screen and make it hotter inside the pool area. Cleaning keeps the smell of lichen and algae away for maximum fresh air.
Proper cleaning also prevents algae to fall from the swimming pool water which may affect the pH level and filtration process of the pool. Keeping the pool screen enclosure clean means there is no sign of fungus, mold lichen and algae growth that may cause allergies and illness to the swimmers. 
For proper cleaning, you may call some professional pressure washing company for specializing cleaning of pool enclosures. You must keep your eye with the household pets as they may cause damage to the screen structure.
When the torn screen didn't repair quickly, it may allow mosquitoes or bees to enter the pool area. Regular inspection and proper cleaning must be done to the screen enclosure for a long-lasting use under the strong sunshine hours.
Related Questions
When should I buy a swimming pool screen enclosure?
Basically, if you want an incredible discount purchasing a pool screen enclosure, you must buy it during summer. Buy your enclosure during summer because the demand for this product is low so you will get a big difference when you buy before the winter is coming.  During summer the demand for pool enclosure is quite low for most of the pool owners wish to have their pool open.
What is the operational cost of a swimming pool enclosure?
The good thing is that the swimming pool screen enclosures require a minimum cost of maintenance. The structure just needs proper cleaning for a longer service lifespan. Aside from that, it also helps reducing pool chemical and pool equipment service by preventing dust, grass, insects and other contaminants going to the pool water. With some type of enclosure that is made up of polycarbonate or aluminum material, it may last up to 25 years with proper maintenance.
Are there any precautions I need to take for my pool screen enclosure to remain in good condition in all seasons?
Always make sure that the opening or closing area of the enclosure is properly used. No one should step up or climb on the pool enclosures. Prevent household pets to torn the screens that may cause big holes to the structures. Most importantly, regular inspection and proper cleaning are needed to maintain the condition of your pool screen enclosure.
A pool screen enclosure can help your regular swimming bonding into a more relax and enjoyable one. It can give you a year-round dipping in a swimming pool with an extra clean, improved security, additional space, privacy and worry-less swimming bonding with your family and friends.