Are you a little lost as to what kind of pool shape to install in your backyard? They come in so many shapes and sizes and choosing the right one can be a daunting task to fulfill, especially so because you can no longer modify it. Once you install a pool, it is there forever. Do not even think about redoing it as it will entail a bigger cost than just installing one.
Here, we will tackle the seven best shapes of pools. These are the most popular for the year, and they will not go out of style even after decades. Read on and get some ideas about the best shapes that you can choose from, in consideration of your purpose and the different functionalities of each pool shape.
Freeform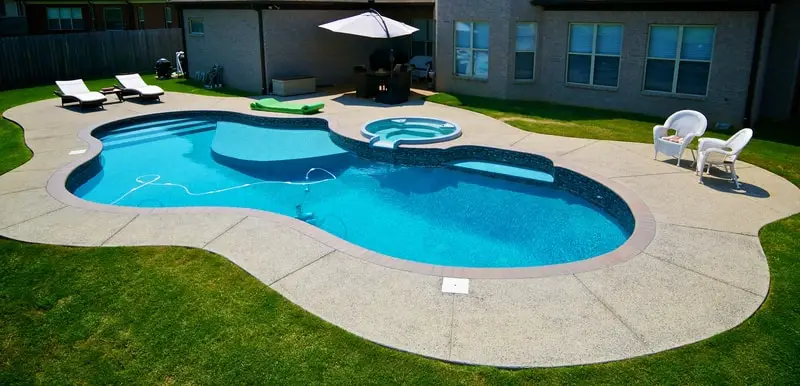 The freeform fiberglass pool is any form that is not square or rectangle. It refers to any shape that has curves, or any shape that is not straight. This shape is preferred by people who have a small space for their pools, as the free form fiberglass pool usually eats up a small chunk of your backyard.
There is no uniform look in this shape, but if anything, it kind of reminds you of a lake or a lagoon. It has a modern feel to it, and the design creates an aura of relaxation.
Typically, this pool comes great for backyard use, as the design compliments an outdoor look that is best used for pool parties, especially on birthdays or family gatherings during summertime.
In many cases, a freeform pool embodies dramatic curves. The downside here is that these curves will use up a portion of the land, and it is not swimmable space. This, though, is compensated by the large swimming area in the middle of the pool.
This shape is best for people who:
Are free-spirited and want the pool to be non-linear.
Want a pool that has a modern and careless look.
Have a huge plot of land to spare for a pool, not including the amenities such as a gazebo or sunbathing chairs.
Who can spare at least eight of land in terms of diameter.
People who want art to surround the pool. This can be done by using tanning ledges, tiles, and a considerable amount of floor space for the pool chairs.
People who want an open pool interior. This kind of pool has a huge open space in the middle, despite the varying depths.
Kidney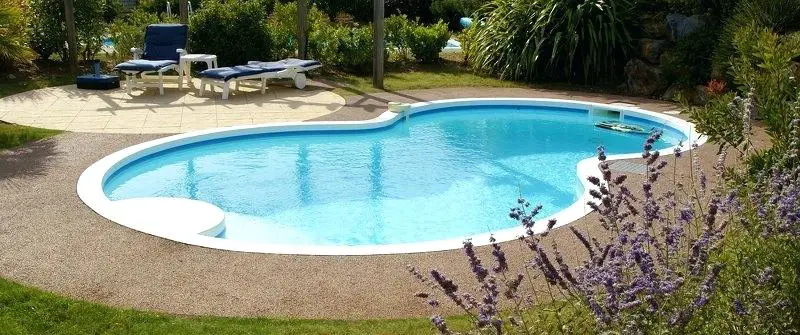 As the term implies, a kidney pool that is made of fiberglass has curves that resemble that of the human kidney. This look has a splashy feel to it, with one side having an asymmetrical length, and the curves lead to a final inward cave-in.
A kidney pool has no sharp lines, as it looks like an inflated balloon whose one side is pushed inward. The look is chic, modern, and it offers a party vibe. Visually, it is not as stimulating as the freeform.
But unlike the freeform pool, this one does not take up so much space. The only challenge in this pool is that it can be very difficult to build a pool cover because of its abnormal shape.
Also, this pool comes in varying depths, usually employing opposite ends to separate different depths.
Kidney pools have endured the test of time. What you can expect from it is that it will never go out of style. It is a classic, and it is best paired in homes that have a classic tone in design and color.
Since there are no corners to it, it resembles a natural body of water. Putting plants and grass around it makes the pool inviting as if it is calling to you to swim. The indentation of the kidney also makes it a good spot to put potted plants.
The kidney pool is best for people who:
Want a naturalistic appeal.
Like the retro look and ensure that they have a pool design that will endure different pool trends.
Want to have a clear distinction between the depths of the pool, as the indentation is usually the separator between the deep and shallow ends.
Rectangular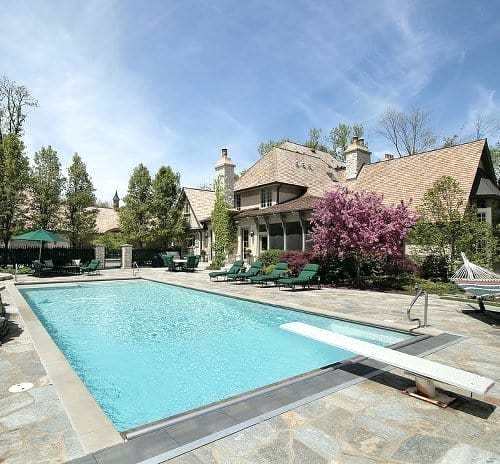 The rectangular fiberglass pool is the most ordinary of all. It comes in either a perfect square or a perfect rectangle.
The shape is linear, and it best fits people who desire to swim laps. It is also the least costly, and the easiest to install. Unlike the kidney pool, this shape is easy to maintain, and creating a cover for this pool should be a breeze, as it has no complex curves.
A rectangular pool is a classic, and it will also not go out of style. The issue here is that it is bland, and it is really difficult to make the pool have an inspiring look. In short, it isn't sexy.
There is flexibility in this pool in terms of depth, as manufacturers offer different depth patterns. Some have varying depths on opposite ends, while some have the shallow areas on the sides, which go deeper as the swimmer gets to the middle of the pool.
Usually, rectangular pools are best fitted at 36 feet long. All sides can accommodate benches and sunbathing seats, and putting tiles and steps around it is not a construction issue, unlike free from and kidney in which your designs are limited by the pool's shape.
It is best for people who:
Intend to use the pool for exercise.
Want a pool that can be used for sports like swimming contests or pool basketball.
Those who want to have a side for diving, as one end can be manufactured to have a deeper level than the other side.
Want to have a pool cover.
Want a pool that is easy to install, and those who do not have a huge plot of land
Roman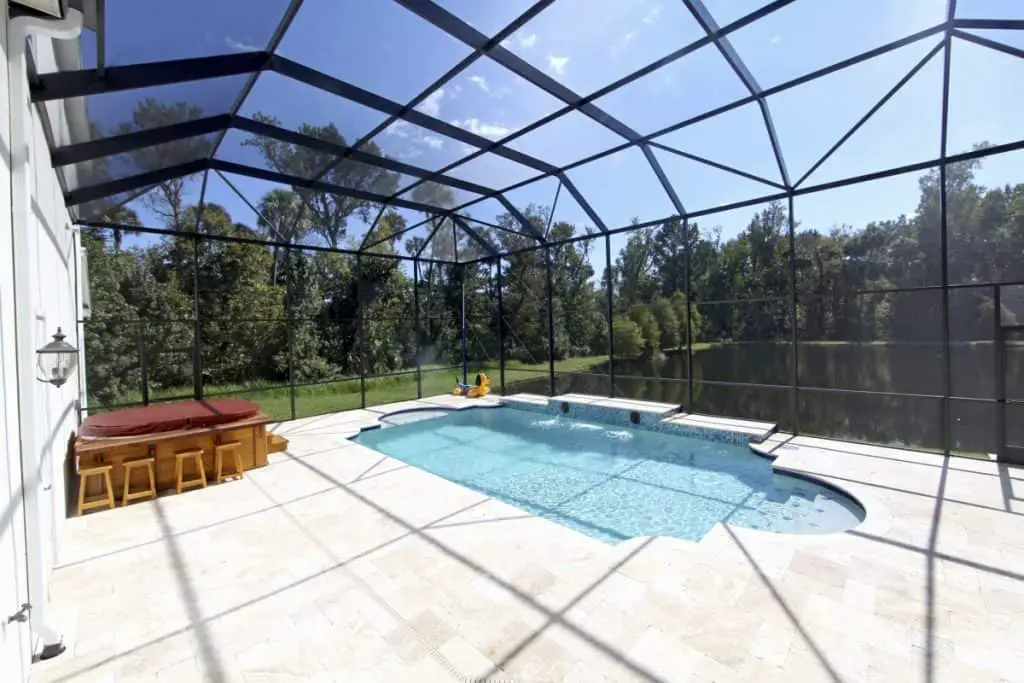 The Roman design is a combination of lines and curves. Usually, it is rectangular in shape, with both sides of the length having a linear construction, and the two other shorted sides curved to meet the length. These curves are accentuated by lines and corners.
It is called Roman because the design can be traced back in the houses of rich Romans in ancient times. It is the same design used in public Roman baths.
The design is a real classic, with the steps located at the curves. It is a style that never went out of fashion, and it is best paired with houses that have Greek or Roman architecture. It looks great in backyards that have Greek-inspired white pillars.
The Roman pool looks sleek, and it commands respect. It can be used to swim laps, and like the rectangular design, it can be modified to have varying lengths on either side. You can also order pre-fabricated ones where the deep portion is in the middle, while the shallow areas are distributed equally on the sides.
Like the rectangular pool, it is best if you use 36 feet of it to maximize swimming space. The length also gives out a grand or regal aura, like as if you are really in a Roman infrastructure.
This design is best for people who:
Have a Greek-inspired house and interiors.
Want either an indoor or outdoor pool.
Want to use the pool for swimming exercises or water sports.
Have a large space for a long pool, but do not want to compromise the swimming space.
Like to have a pool that allows easy landscaping activities.
Who love a neo-classical pool that commands awe.
Oval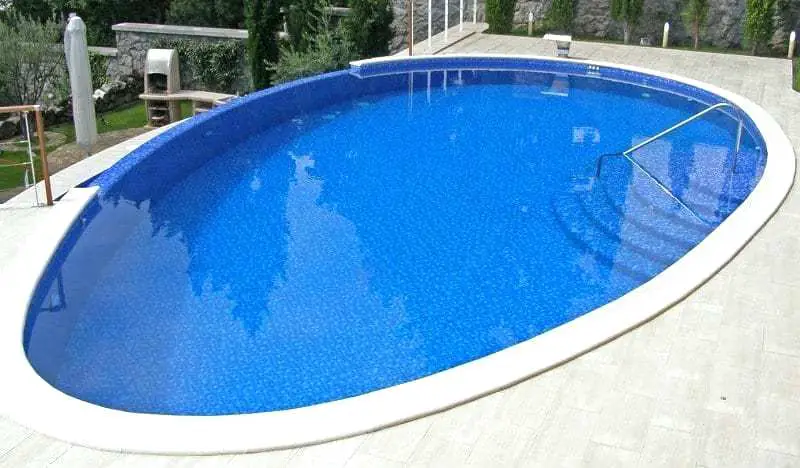 Oval pools cannot be classified as free form or kidney. An oval pool is shaped much like an oval. It comes in many shapes and sizes, and you might see an indentation on one side from time to time. However, the indentation is not deep enough to give it a kidney look.
An oval pool works best for both indoor and outdoor use, but it cannot be used for long laps and pool sports. The look is a blend of the classic and the modern, as a curved pool still provides a rectangular look, albeit the curves have similarities with the freeform and kidney designs.
An oval pool, like the kidney design, is timeless and is not subject to trends. If you are looking forward to swimming laps, the only remedy is to have a curved pool that is long enough to allow you to swim laps.
Some oval pools also have the 8-shape. It is a great design for people who are looking for fun and leisure, but definitely not exercise. The good thing about the 8-shape is that it also tells people easily that one side is deep and the other is shallow.
The general depth of oval pools is that the ends and ledges are shallow; the waters get deeper in the middle.
The oval pool is best for:
People who do not mind that the pool has no cover.
Those who are after shape and design and not functionality.
People who have a small lot to convert into a pool.
Those who do not mind that the surrounding area does not have a great landscape because curved pools are usually placed in small lot sizes.
L-Shape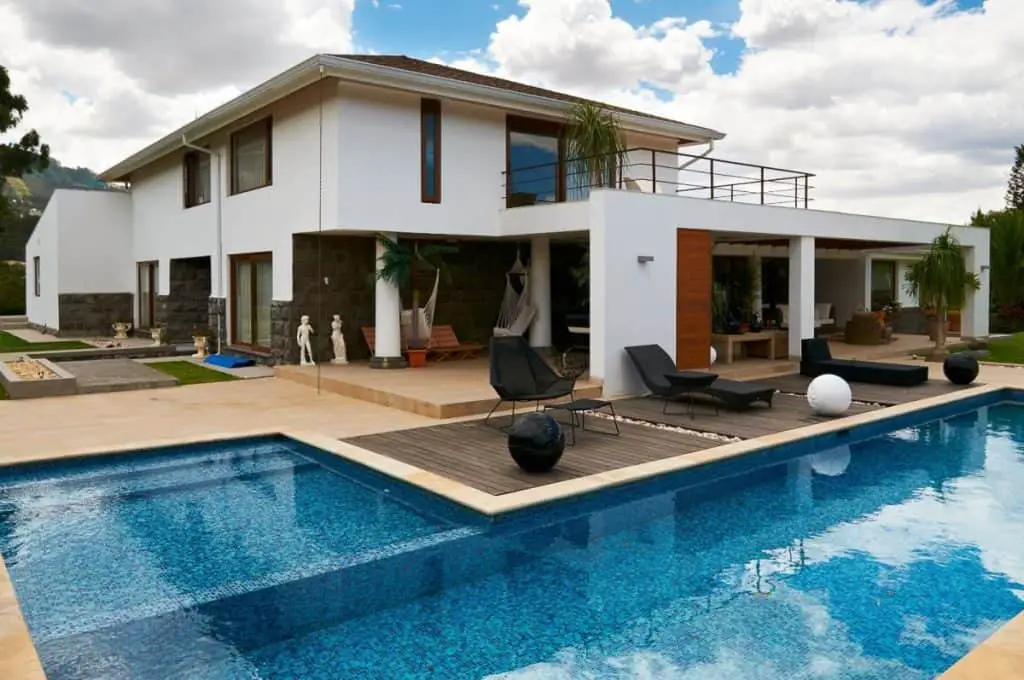 The L-Shape is just like that—it is a letter L. It is like putting two rectangular pools perpendicular against each other.
The L-Shape is a space-consuming design, but it has great functionalities for swimming laps. The good thing about the L-shape is that it segregates different depths.
You can have two depths on the long side of the pool, and then another depth on the perpendicular side. The perpendicular side can be used by children, while the long side can be used by adults and for exercises.
It is also easy to create a pool cover for this shape, but the classic design is not one that is favored in terms of panache. It is bland and flat, and it mostly used for functionality than design.
The L-shape also occupies a huge space, and one chunk has no swimming area, but you can use to put plants and landscape. An advantage of this shape is that the sides give enough space for pool amenities like sunbathing chairs. You can also use different sides for steps.
The L-Shape pool is best for people who:
Have a huge space to spare.
Have kids or expect children to swim often.
Want to use the pool for laps, exercises, and pool sports.
Want at least three different pool depths.
Want to be able to put a diving board, as one end of the pool can be as deep as nine feet while the other two sides can be shallower.
T-Shape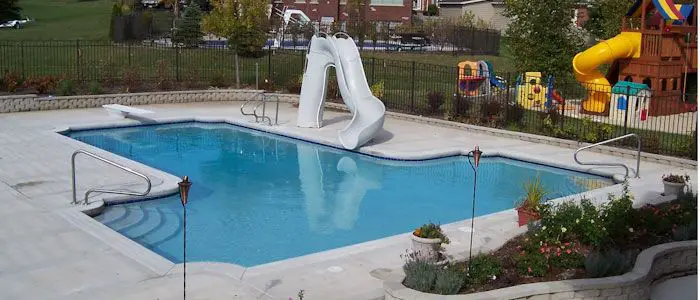 The T-shape is a variety of the L-shape. Although it is not an actual letter T, the pool still looks like it. The T-shaped pool has a shorter foot, and the line of the T is much longer than its base.
The shape is ideal for those who want a spa area. This area is the foot of the T. The head is the long side which is rectangular, and it is best used for two depths.
The longer side can be used for exercises and swimming for laps, which, while the foot is best for children, especially toddlers. Some variants have a barrier between the foot and the long side to prevent toddlers from crossing over.
Usually, the foot is 3.5 feet in length, while the long side is a blend between five feet and nine feet. It is rare the long side has deep depths in the middle, because most people who want this shape are after diving, so they install diving boards on one end, and that end is about at least nine feet in depth.
The T-shape is best for individuals who:
What a diving spot.
Have a huge space to spare for the pool as this requires a lot of land area.
Do not want to spend too much time designing and maintaining a landscape around the pool.
Want to have a pool where people of different ages can enjoy like toddlers, teenagers, and professional swimmers.
Would like to use the pool for swimming exercises and sports.
Things to Consider When Buying a Pool
So, now that you know the seven best and most popular pool shapes, you also need to know some of the things you have to consider before ordering one.
Consider Your Lot Size
Linear pools need more space because they have corners. There is no pool that fits all lot sizes.
Think carefully about how you want to make use of your land. If you are looking forward to pool parties, you may need a smaller pool in the middle, and then people can gather around it.
Think of The Functionality
Linear pools are best used for laps, exercises, and pool sports. You can also make one end deep enough to accommodate diving activities.
Curved pools do not require a lot of land, but they also have less swimmable space. Curved pools are best for relaxation only, but not for swimming.

Landscaping
The curved pools need a lot of trees and grass to make it look awesome. Rectangular pools do not need a lot of landscaping work because you only need to put sunbathing chairs around them.
Length
Rectangular pools, at a minimum, need ten feet in length. The problem with this is that it reduces the functionality as ten feet is too short to have different depths, let alone have a spot for diving. The optimum size for a rectangular pool is at least 30 feet.
Curved pools will do fine with eight feet. They are just like Jacuzzis where you can relax and have a good time.
Summary
No pool shape is better than the others. Keep in mind that they all serve one purpose: swimming. The pool shape that you choose must complement your house design, the size of the land you are willing to spare, and the specific activities you expect to do in your pool.
Now that you are aware of the different shapes and the kind of individuals that fit them, you can start working with your pool expert to design and plan the installation process. This entails drainage, pumps, maintenance facilities, and so much more. Once all of these things are done, you can proceed with ordering a pre-built fiberglass pool or have one custom-made for you.