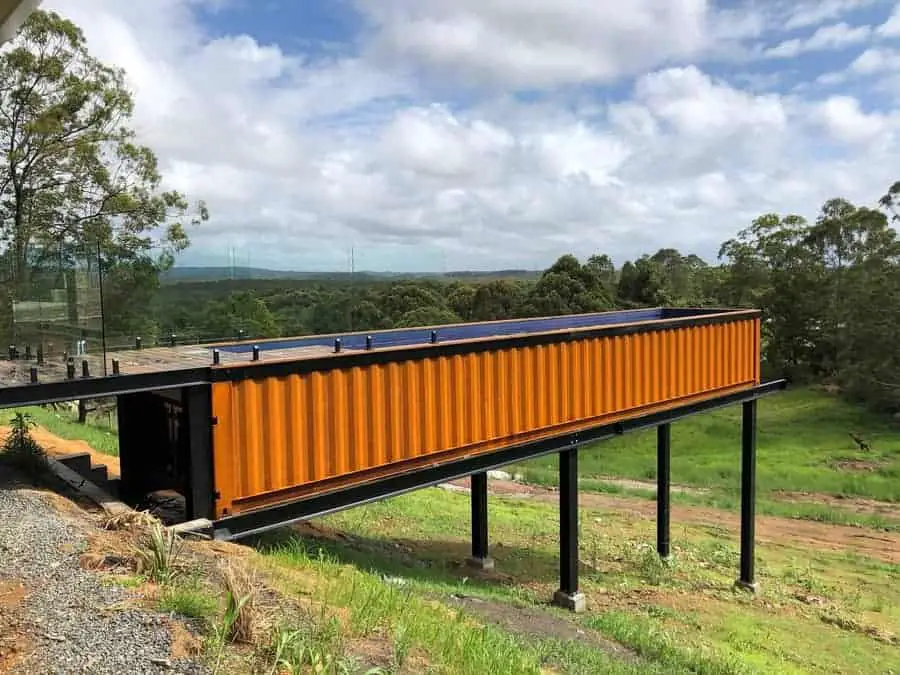 One of my favorite things to do is to search #pool on Instagram and to scroll through the myriad of images to visualize my perfect backyard oasis.  Recently, I've noticed a considerable increase in images of container pools on the Instagram feed; these industrial looking, recycled shipping containers are a hot trend worldwide and are praised for adding recreation and sleek décor to small, underutilized spaces. 
In general, the base price for a new container pool runs about $26,000 US dollars for the 8 foot by 20-foot size, and $35,000 US dollars for the 8 foot by 40-foot size.  This pricing does not include delivery and installation costs, or customization and technological features, which can be added to the base design.  Also, this price estimate is for a new-from-factory shipping container; many companies offer more cost-effective versions made from gently used shipping containers. In order to get a precise indication of how much a container pool will cost, it's important to understand the container pool industry and to identify a potential purchaser's container pool needs. 
Continue reading to find out everything you need to know about shipping container pools.
A Creative Solution For Your Backyard Pool Needs
From Shipping Container to Trendy Pool 
Online images of container pools captured my imagination because they showcase many unique features. Their cool industrial aesthetic comes from the fact that many of these pools were once shipping containers, and have been repurposed into modular swimming holes. Container pools are becoming a profitable business product for many new companies, in countries all over the world.  
In a former life, these pools were used as stable, steel storage boxes to carry goods economically and safely, on the road, over the rail, or across the sea.  Typically, these containers are 8 feet wide, and  20 feet, or 40 feet long.  These simple, oversized boxes are transformed into pools by adding liners and insulation, electricity, heat, and water filtration.  There is no doubt that Malcolm McLean, owner of a North Carolina trucking company,  never imagined that the original shipping product he developed in 1956 would also revolutionize the pool industry!
Container pools are the perfect solution for limited backyard space, and they can be used above ground or placed in-ground. They still require basic pool maintenance, and will need the same equipment as an above-ground pool: a pump, a filter, a heater, a heat pump, and a lighting source.  Also, they require cleaning and chemistry management.  
Is a Shipping Container Pool the Right Choice for You?
Pros and Cons of Container Pools
Competitors within the pool industry are quick to point-out the container pools' flaws.  For one, they cannot be customized into a range of depths. At best, most of the container pools have a standard water depth of 5 feet. This most certainly eliminates any chance of diving head first into the container pools, as most Department of Health Requirements prohibits diving in water depths of 8 feet or less. 
If the ability to dive into a potential backyard pool is a high priority, then an in-ground pool, is a better choice than a shipping container pool, as the average deep-end depth is 10 feet.   Also, because of their modular composition, container pools offer a disappointingly narrow swim lane. The longest shipping container pool is 40 feet in length which is still less than half the length of a 'short course' competitive lap pool; for competitive swimmers who are looking to get their morning laps in with ease and comfort, shipping container pools are not the right choice.
Many people are under the assumption that, since the container pools are repurposed metal, they can purchase a container pool for short money, as a great economical alternative to an in-ground pool. In most cases, these same people suffer sticker-shock when they hear the actual container pool price tag; while it is usually cheaper than the cost of an in-ground pool, it is far from a steal. Changing these eco-friendly vessels from a shipping container into a sleek swimming pool can be an expensive process. 
Usually, another layer of steel is added inside the corrugated walls of the container, to ensure that it is water-tight from the inside-out.  Then, the containers are painted multiple times to prevent corrosion and lined with a fiberglass shell. One positive note about a container pool is that the finished product is super-durable. Also, it is transportable and easily relocatable; a shipping container pool allows for a move from a current address, to a new address – merely drain the pool, lift onto a truck, and wheel it away to the new location. 
Container pool critics say that in the end, a basic in-ground pool is actually more economical, and more functional, than a container pool.  According to the home improvement website, Home Advisor, the typical cost of an in-ground swimming pool is anywhere from $35,000 to nearly $65,000, with the average price centering around $49,000. 
The very smallest container pool sizes, which measure 8 feet by 12 feet can be purchased for an average of $17,000. While this seems like a pretty good deal, critics argue that the small specifications of the container make it feel more like an oversized hot tub than a swimming pool.  Still, the transportability and the eco-friendly elements of these container pools, make some buyers more willing to opt for container swimming pools. 
Will Shipping Container Pool Prices Soon Drop?
Shipping container industry leaders have stated that as more competitors enter the market, and fine-tune the container pool model, prices of these unique rectangular modular pools will eventually drop. 
Traditional pool companies have started to research how they can devise a product comparable to the container pools; one company, poolwarehouse.com, offers a rectangular DIY In-ground Pool Kit starting at $4,195. This kit, which features a custom steel vessel, is strikingly similar in appearance to the shipping container pool models.
Unique Features of Container Pools
While the design of the container pools is minimalistic, the features are impressive, and some of the "bells and whistles" of the more luxurious container pools can significantly add to the price. They can be designed to coordinate with any backyard theme, and feature marine plywood decks, great looking finishes, and non-slip surfaces.  Many of the 20 foot and 40- foot container pools on the market come with multiple body jets, which can be controlled via a smartphone. 
Thanks to these high-powered jets, and a powerful heater, even the larger-sized container pools can quickly increase in water temperature, and convert to bubbly hot tubs.  In some container models, pumps can produce a strong current to allow a user to swim in place or to perform low-impact exercises.  These containers have been recognized as a great exercise alternative, for people who suffer from joint pain or other ailments. 
Some container pools feature lightweight acrylic divider walls to separate a unique spa section from the rest of the pool.  Still, others laud their sleek electric cover options, and customized, touch screen app. Safety regulators highly approve of these easy-to-use covers because they give container pool owners the ability to open and close a pool cover with ease and add an element of safety to the backyard.  Tragically, over 200 young children drown in swimming pools each year; this ability to completely close-off the container pools during non-use is an excellent barrier to entry.  
Multiple glass windows can be carved out of the sides of the container walls, to give the pool an even sleeker, customized look. Swimmers love the ability to look out into the yard, and designers love the fish-tank feel of the big glass windows. What's more, parents appreciate the ability to see through the glass window at all times to keep a watchful eye on young swimmers.  
Most of the container pool companies showcase standard container colors: white, grey or black, with either aqua blue or grey interiors.  Custom colors can certainly be accommodated, for an additional price.  Recently, one designer previewed a hot pink shipping container pool, to coordinate with matching pink flamingo floats! The custom features of many of the container pools on the market are limitless, and can add thousands of dollars on to the base price; for example, there is a custom option that lets you install color-changing LED lights, that can be synchronized to music!
Things to Consider Before Purchase and Installation
Purchasing a container pool is a lot like buying a car: you can buy one brand new off of the lot and fully-loaded with amenities, or you can purchase one that has been gently used, with minimum dents and scratches, and minimal features. Prices of these pools can vary by the thousands, depending on customization. Most container pool companies offer easy installation and delivery worldwide. Installation is usually made with ease, about 6 to 8 weeks after purchase.  The container pool companies work in solidarity with local contractors, who have been trained in proper installation procedures. Usually, delivery of the large structures is impressive and efficient, thanks to the help of a large crane. 
Some ground preparation of the prospective container pool site is required; the most common and cost-effective option is to lay-down 8 inches of compacted gravel, before placing the container pool at its desired location.  Some patrons prefer to pour a concrete slab over the desired container location, for slightly more expensive installation.   While there can be a great deal of customization for a container pool, the one thing to remember is that they are modular, and standardized size and shape.
The Cheapest Way to Get a Shipping Container Pool
Build A Container Pool Yourself, for a Fraction of the Price
Many "do-it-yourself" sites claim that shipping containers are so durable and simple, anyone can purchase a used container, and build-out a container pool on his or her own. Shipping containers are ideal for the swimming pool purpose because they have structural integrity and mounting points already built-in to them.  Also, shipping containers are readily available, throughout the world.
A shipping container to swimming pool build-out can be done, but it is not as easy as it sounds.  While it is relatively simple and inexpensive to purchase a used container (an 8 foot by 40 foot used one cost an average of $4,000 and is available to ship worldwide), there are many steps to complete in order to arrive at a finished container pool. 
First, aspiring pool owners need to check with their local town government, or planning boards, and get permission to build-out the container pool structure.  Most towns have specific regulations in place for pools; for example, many towns have strict specifications about water depth and fencing around a water structure placed on personal properties. 
 If a  "do-it-yourselfer" is able to persevere through the paperwork and the required permitting, then the next step in the process is to consult with a structural engineer, to ensure that the container can bear the extreme weight of the water. Water is quite heavy; the container pools manufactured by the larger companies are all made with an additional layer of steel, to reinforce the container and make it watertight. 
An engineer can compute the weight of the 4,800+ gallons of water to fill the pool, and recommend the necessary fortifications to bear the water's weight. Sometimes, plywood can be used in place of the additional layer of steel. 
Next, the container pool needs to be painted with heavy-duty anti-corrosion paint to prevent rust; all the sharp edges of the container have to be covered, and a heavy-duty pool coping should be added as trim to the top of the container.  General knowledge of basic plumbing and electrical connections is a must, to add the proper plumbing, pipes, and filters to the container pool.  
Some "do-it-yourselfers" claim that from start to finish, an 8 foot by 20-foot pool, cost them less than $6,000 to build. Designers love to use shipping container pools as great examples of modest luxury that allow even lower or middle-income households to build-out fantastic swimming pool spaces in their backyards. 
In 2012, experimental architect Stefan Beese made a splash by designing and building a small but perfectly elegant container pool at his home in New Orleans,  for $7,000 US dollars. YouTube features many videos with detailed instructions on how to create a container pool of your own; with lots of patience, and some know-how it can be done for a fraction of the cost of a container pool purchased from the major manufacturers. There is no doubt, however, that it requires a specific skill-set to manage the process.
Container Swimming Pools Are Here to Stay
Revolutionizing Backyards and Trade Shows
Container pools are not just a passing fad. For city dwellers, and people with limited backyard space, container pools provide the perfect solution for outdoor function and fun.  They have grown in popularity for special events, exhibitions, concerts, and festivals. Shipping container pools give designers the ability to create "pop-up swimming pools" at any public event.
Since they can be easily transported from one venue to the next, event promoters, use them as a unique way to generate excitement and attract a crowd for their events.  Fashion brand Tommy Hilfiger made a "big splash" in 2011, when it showcased models in a container swimming pool, at Berlin's Bread and Butter fashion trade show.  Also, various exclusive clubs throughout New York City have created waves with their container pool parties.   
Are container pools the right choice for you? While they are certainly not "a steal," they are for the most part cheaper than in-ground pools, and they are a creative and fun concept. The real question is whether or not a container pool complements the design of a  home and integrates seamlessly with a particular background environment. 
It's hard to get an exact answer for how much shipping container pools cost, without first considering container size, and customization. If there is a small footprint of a yard to work with, and the funds to make it happen, a container pool could be a perfect choice. One thing is for sure; the images of these minimalistic, cool-industrial-looking container pools capture the imagination.
Related Questions:
If I order a shipping container pool today, will I have it by Spring?
When time is of the essence, container pools are a terrific option. Since they started out as shipping containers, they benefit from the ease of transport.  New shipping container pools usually ship-out 6 to 8 weeks after purchase, and arrive shortly after that. With a simple connection made to a natural gas or propane line and electrical service, a container pool can be "ready to go" within minutes of its arrival.
How can I be sure that my container pool won't spring a leak?
One of the reasons that shipping container pools have multiplied in popularity is the extreme durability of steel construction. Most of the major shipping pool companies promote that each container pool features a high-quality build, backed by a 25-year structural warranty, and maintenance plans.  
Can I rent a shipping container pool for an upcoming trade show?
Event planners are just starting to realize the benefits of incorporating container pools into their promotional displays.  Rental companies for container pools do exist, it just depends on your event location, and your companies needs.