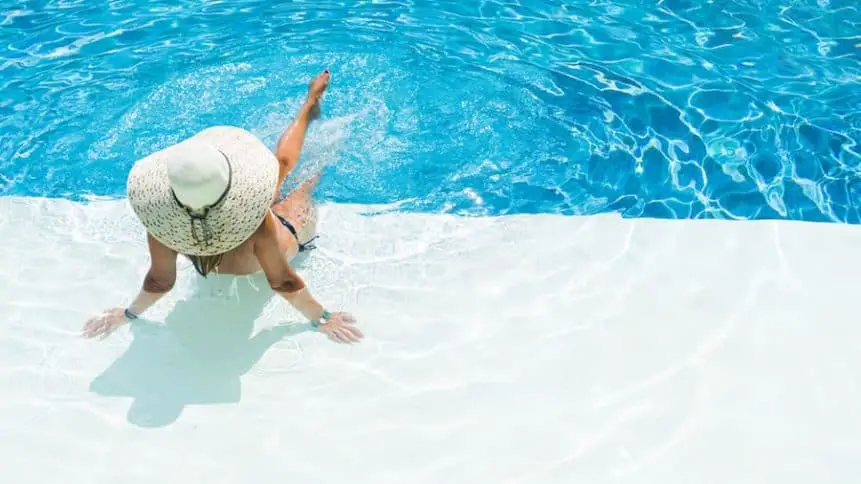 Thinking about getting a sun shelf or a Baja shelf for your backyard pool? Well, they are a great way to catch some rays without being stuck in the unbearable heat. Sun shelves use to be only found in high-end hotels and resorts, but they are now becoming increasingly popular in custom made pools for your own backyard.
A sun shelf or Baja shelf is simply a shallow platform in one corner of your pool that gives you the option to lounge without blowing up the floats, just dip your toes in, or play with the little ones in a safe spot. It also goes by many different names including a Baja shelf, tanning shelf or even a tanning ledge.
A sun shelf can definitely be a great addition to a pool. So keep reading to determine how a sun shelf would work best in your pool and the benefits.
What Exactly is a Sun Shelf/Baja Shelf?
Also known as a Baja shelf, tanning edge, and lounge edge, this feature is one of the hottest trends for backyard pools in the United States. Typically, these ledges are designed so that they are submerged in about 8 to 12 inches of water.
A sun shelf is a solid span inside parallel to the pool perimeter. It resembles a wide, shallow step. This feature typically runs about 4 to 8 feet in length, at least several feet in width, and 3 to 18 inches deep in the water.
Sun shelves usually are a rectangle in a pool but it can also be square, oval or a curvy shape that fits with the pools shape.
Pool owners usually have a large patio umbrella to provide shade from the sun. You can also use the sun shelf as a supervised play area for small children. It can also be great if your dogs likes to cool off in a few inches of water without having to swim.
Thousands of new pools around the country are built with a sun shelf. Many pool owners that a planning a pool renovation have a sun shelf at the top of their list due to many benefits.
Let's go over the many benefits and the factors that you need to keep in mind. So keep on reading if you want to learn the many benefits and concerns.
The Benefits of a Sun Shelf/Baja Shelf
Sun shelves are also known as a Baja shelf so it would be perfect for tanning. You can also relax with your favorite drink and enjoy a magazine or book while you are lounging in a chair dipping your feet in the water. Sound nice, huh?
You can put a sun shelf on most any pool, which means that you don't need a specific design for it to work. That means that you don't have to replace your entire pool if you don't want to. The shelves come in all kinds of shapes and dimensions.
There are accessory options, too. You can choose a sun shelf design with a stand incorporated to hold a large beach umbrella. That gives you a way to add shade to the shelf if your pool gets a lot of direct sunlight. 
These shelves are also ideal for:
Watching your young children play in your pool (while supervised)
Giving elderly adults a way to have a blast without the worries of getting in or out of the pool.
Splashing around in the water with your dog
Staying cool with doing exercise outdoors
Different Types of Sun Shelves/Baja Shelves
Open Shelf
Some tanning ledges are like a very large step jutting out into a section of the pool. This would be a killer setup for adults that want to sit in the water and enjoy the sun. Usually, these shelves are large enough for a little party or a few lounge chairs.
Enclosed Shelf
This type of shelf is basically just a small, shallow pool that is separated from the rest of the pool by a low wall. The water is shared with the pool through spillways.
This setup is very common for families who have younger children because the barrier between the shallow pool and the rest of the pool should stop kids from wandering into deeper areas that they should not be in.
Sloped Shelf
Some people perfer to have their ledges sloped or tiered leading into deeper areas of the pool, but this is generally referred to as a beach entry style rather than a tanning ledge, even though you could use it in basically the same way.
Are Sun Shelves/Baja Shelf Worth The Price Tag?
When you start to a look closer look at your budget, you need to decide if a sun shelf is right for you. If you really enjoy spending time dipping your feet on the edge of the pool without being the water, this could be a really good choice for you.
If you find yourself swimming or in the deep end most of the time, you may want to consider another feature that best suits you. When you start to look at your budget, you have to figure out if a sun shelf makes sense for you.
If you plan to add extra features to your sun shelf such as bubblers, massage jets, or built-in tables, then the cost of the project will go up significantly. Please keep in mind if you have an older pool adding a sun shelf maybe make it more difficult and more expensive.
Whatever the price of adding this feature, there is no denying the obvious advantages of a sun shelf. Adding a sun shelf into your pool design will allow you to get more use out of your pool.
When making the decision to purchase this feature, think how this feature will fit into your family. If you have young children or grandchildren, a sun shelf is a safe place for them to get their feet wet on a hot summer day.
Also, if you love tanning and relaxing in the sun, then adding a sun shelf to your pool is the perfect choice!
Related Questions
How deep is a sun shelf?
Sun shelves usually between 6 and 12 inches deep, with 10 inches being an especially popular depth. Their size often range from 5 feet by 12 feet to 8 feet by 18 feet.