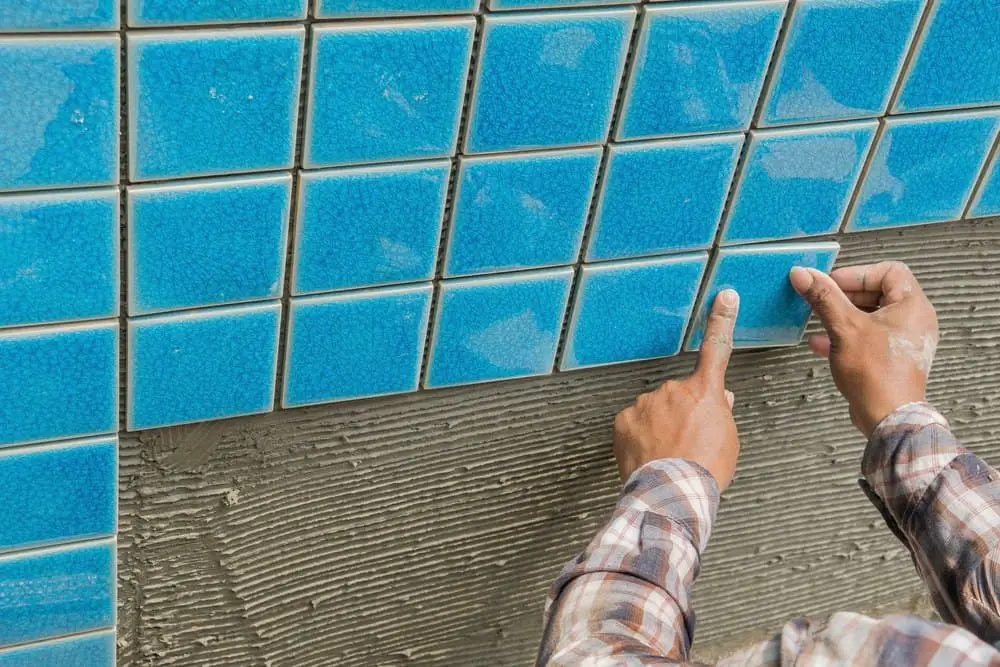 When undertaking a outdoor renovation, the pool design and the surrounding areas should be at the top of your list. Choosing the right swimming pool tiles is critical to create a modern pool that will be timeless. Tiled surfaces, both inside and outside of the pool, can provide a clean, modern look, in addition to help the pool last longer.
Different Types of Pool Tile
After you know the many tile options that are available, you will know what you're looking for and what's best for your pool design.
Glass Tile
Glass tile has remained a popular choice for swimming pools because of the way it captures sunlight and mirror's the water movement. One of the drawbacks of glass tile is that it's much more labor intensive, and this leads to higher cost overall. However, the results are stunning and can't usually be found with any other type of tile.
Stone Tile
If your home is themed with a classical or natural decor, this can provide you a natural, early tone, which may match the aesthetic you are going for. If you have a salt water pool, it's not recommended that you use soft stone such as travertine for your tile because they are prone to damage caused by salt water.
Porcelain Tile
Porcelain tiles have been the choice for pool finishing for decades. Compared to glass tiles, these are hand-painted with stunning designs, or they can be offered in a mosaic style. If you want a textured tile that goes well with your surrounding landscape then porcelain tile is for you. Also, there is a also textured-glazed porcelain tile that can make your swimming pool border more bold and more exciting.
Mosaic Tile
Mosaic tile is offered in a combination of colors, designs, sizes, and different types of tile. The finished product is a colorful and unique tile that is usually a perfect choice if you can to add that eye popping tile to your pool's waterline.
Can I Use Any Tile for My Pool?
No, not any tile can be used in your swimming pool. According to Installing Ceramic Tile in Swimming Pools, it's critical to choose the right tile for your swimming pool:
"While all ceramic tiles are suitable for wet areas like showers, not all ceramic tiles are suitable for pools because any cracks in the glaze can allow moisture to penetrate the tile body. Choose a tile for your pool installation that is either impervious or vitreous. This means the tile will not absorb water if the glaze were to craze or crack. Impervious tiles are best; they will only absorb 0.5 percent of any moisture they come in contact with. Vitreous tiles will absorb up to 3 percent."
Ceramic tile that are designed for swimming pools are their own category due to pools having heavily treated water and can be exposed to freezing temperatures. When it comes to having tile installed, it's super important to make sure the installer has experience installing tiles. A lot of problems can be caused because the installer cuts corners and installs the tile with grout which can crack under heat. Eventually the water gets into these cracks and expands causing the tile to pop. Many experienced installers are going to recommend to use epoxy gout which is much more expensive, but it will be worth it.
How Do I Choose Pool Tile Color?
The color of your pool water can set the tone such as creating a relaxing, uplifting and inviting environment. We will list off the common pool tile options for color and how they can affect the pool's mood.
Blue. This is obvious, blue tile will make your pool water look more blue due to the blue shades projected in the water.
Cream. If you're in love with earthy tones, you may want to consider tile that is cream or taupe. If you want a darker shade then cream or taupe then consider brown or dark beige tiles.
Gray. Gray tiles can help you get the color of the sea if that's what you desire. The combination of gray and water can create a beautiful shade of blue that can be aesthetically pleasing.
Green. If you want your pool water to look like more natural body of water like a lake then green tile can achieve that. The water will still look blue but if you want the pool to be more green then surround the pool with green vegetation to make the water look more green.
Red. Fun fact about red tile, it can make your pool water to look more clear and transparent. Red tile is not very common but if you are looking to make your pool unique, red tile can be an important design element.
How Much Does Pool Tile Cost?
The cost can depend on your location, the tile material, the instillation, and the size of your pool you're tiling.
For an standard sized pool, tile will cost between $2,500 and $4,000.
Standard pool tile can range $5 to $100 per square foot depending on the type of pool tile.
How Long Does Pool Tile Last?
Waterline tile should last around 10 years if you maintain your water chemistry and maintain your pool on a regular basis. Glass tile is often more durable and can last longer than 10 years. Pool tile will last longer on a fiberglass pool than concrete pool due to movement with the pool.