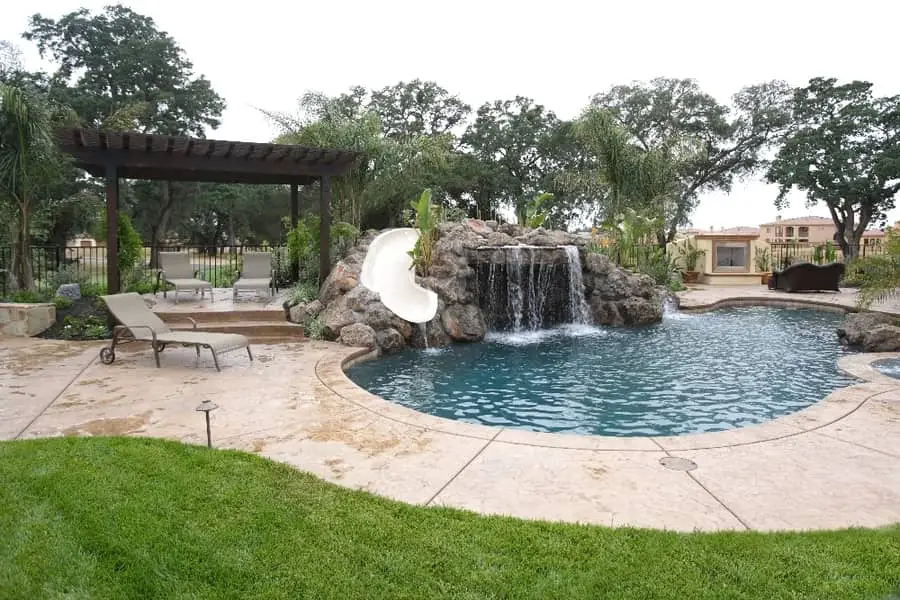 Thinking about adding a slide to your backyard pool? Well it can be a blast for the whole family!
For people shorter than 48 inches, if the distance between the end of the slide and the water, known as the drop, is 3 inches or less, the water depth should be 2 feet. For people taller than 48 inches, the pool must be at least 3-feet deep, with some manufacturers requiring 3 1/2 to 4 feet as a minimum.
There are other factors that can determine the needed depth so please do take the time to read about some of the other deciding factors.
Footprint
Before you set your heart on a swimming pool slide and spend any money, you need to make sure it actually fits next to your pool.
Each slide requires a certain amount of deck space beyond the ladder to the bottom tip of the slide; the owner's manual spells this out in detail. Check with the slide manufacturer specifications and measure out the area around your inground pool.
If you are still unsure you can get a second opinion from a friend or a pool contractor.
Different Types of Slides
Straight Leg Slide
This slide is straight near the top with a wide curve at the end when you land in the pool. Generally, the height of a straight leg slide ranges from 8 to 12 feet tall.
Depending on the grade of the slide you may need to add 6 inches to a foot of more pool depth due to the speed of the grade.
This is going to require the least amount of pool desk so it's the most common option.
Molded Slide Leg
The molded slide leg generally has a steeper and curvier design. Molded slide legs typically curve to the right or left at the end which makes the ride down the slide more fun.
Typically, the molded slide leg is about eight feet tall and includes a closed stairway to prevent young children from climbing unattended.
Elephant Leg Slide
A truly individual type of slide, many know the elephant leg slide for its one-of-a-kind shape.
The two main types of elephant leg slides are the G-Force pattern and the stream design; each embody the idea of fun at the pool! The stream design is very tall with a height of 14 feet and is large in size.

Pool Deck
Before you think about buying a slide you need to double check to see if you have enough deck space around the slide for easy access.
Most manufacturers will tell you how much space you need for a particular model which can range from 5×5 feet to 15×15 feet. So double check the deck requirements before going with a specific slide you have in mind.
Do It Yourself
You can also look for a slide that you can easily install without seeking the help of a contractor. If you plan on buying a larger slide, we recommend that you do your research and see if the company selling the slide; offers services to help install the slide.
Keep in mind, even the simplest pool slide will require some form of drilling when being installed.
Color
It used to be that slides only came in one color, and that color was sky blue.
Nowadays, you can usually also get white, and many of the newer slides are available in earth tones of granite or buff (gray or brown), to match the natural stone.
Pool Slide Materials
Polyethylene
Most pool slides are going to be manufactured from polyethylene which is one way of saying, plastic.
It's highly dependable to water and pool chemicals, plus it maintains its color and holds its shape despite intense and long-term sun exposure.

Fiberglass
A reinforced plastic material composed of glass fibers embedded in a resin matrix. Fiberglass is a great choice for a pool slide due to it's durablitiy.
Fiberglass is also durable and has low maintenance requirements.
Keeping Your Slide Clean
A clean slide is a fun ride. No one wants to go down a dirty slide with leaves, twigs, bugs and other outdoor debris that can make their ride uncomfortable. Brush with a broom or brush then you can use spray or a soft cloth and then rinse to remove the grime and keep your slide looking good.
Related Questions
How much does a pool slide cost?
The cost of a pool slide all depends on the design and material you choose, so it will vary. A simple slide with the ladder could be installed for $2000 while a more custom slide could be up to $100,000.
Another factor to consider is insurance. Liability insurance for a pool slide could be an additional $1,000 a year so be sure to talk to your insurance agent to discuss the cost and any potential risk.
Do I need any permits or licenses?
Regulations may vary by state, county, and municipality. It is the pool owner's responsibility to understand and secure any permits or licenses. Occasionally, a regulator will ask for additional engineering documentation – wind, soil, structural analysis, etc. We can provide at an additional
fee.
Are pool slides safe?
There are three things to consider in regards to the safety of your pool slide.
Product Safety Features
CPSC Complaint Slide
Proper Installation
Make sure you buy a CPSC-compliant slide, you can also look for additional safety features like sturdy, molded handrails that are easy to grip, wide ladder treads with enclosed steps, and high side walls.
The Consumer Product Safety Commission (CSPC) has provided standard safety measures for the providers of pool slides.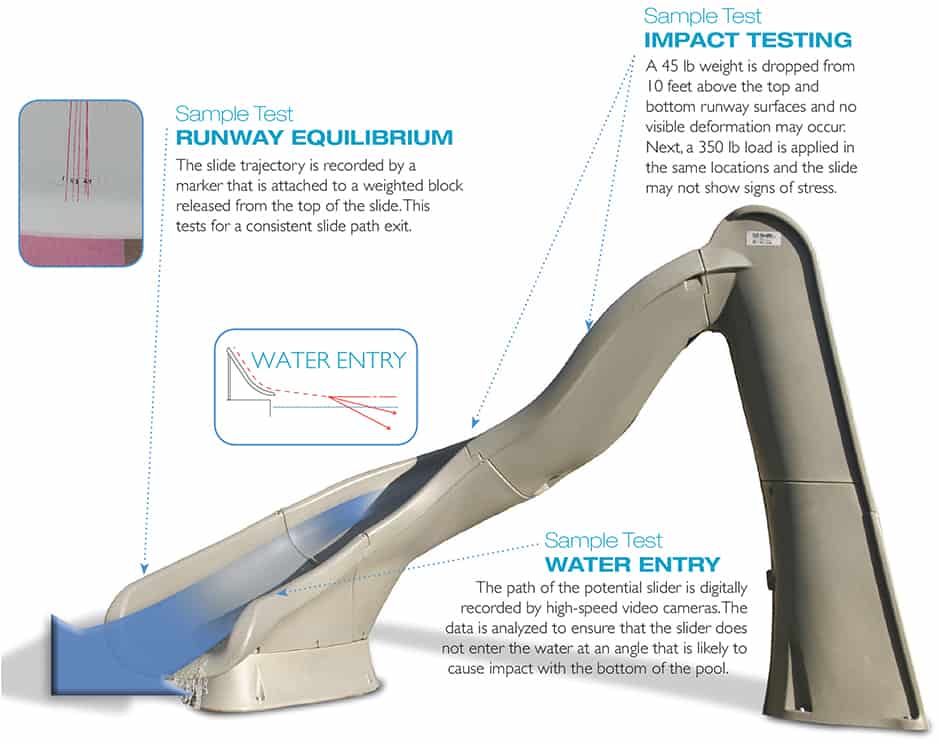 Finally, correct installation is imperative to pool slide safety. Swimming pool slides should only ever be installed on in-ground swimming pools that have the proper water depth below the slide flume, and enough depth in the pool as well to the front and sides of the slide exit.

How much water does a pool slide use?
It does not use any additional water but uses the pool water. There is a kit that allows you to tap into pool returns and bring water up to the slide through small plastic tubing.
Conclusion
We don't mean to discourage you from adding a slide to your pool. By all means — if you the added thrill ride, the extra cost is well worth it.
But, if your budget is tight, realize that you won't be spending too much of your time in the deeper depths anyway. Most families spend the vast majority of their time in the shallower parts of the pool.