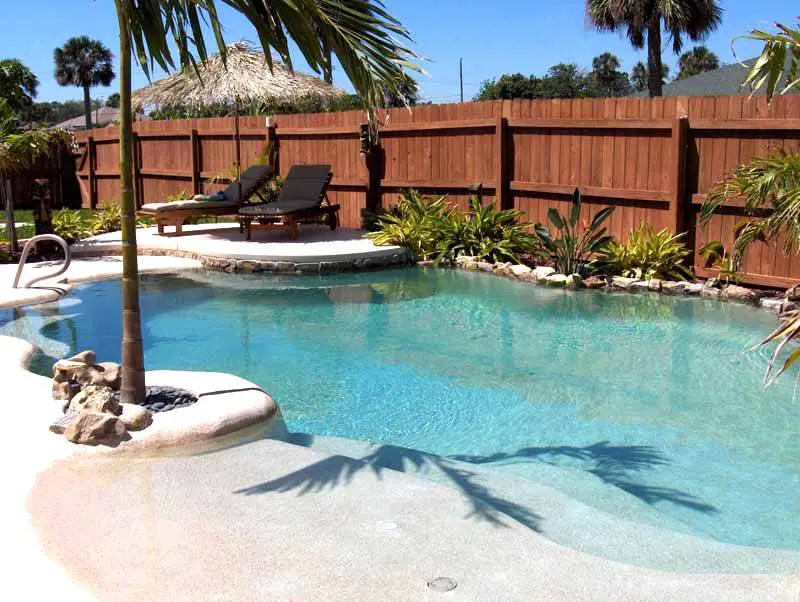 Zero entry pools, also known as beach entry pools, have been creating quite a buzz. Some get them for the ease of entering the pool or simply love the look. Considering taking the leap this summer to create a splash this summer with a zero entry pool? Well, here are some of the pros and cons of the zero entry pool.
What is a Zero Entry Pool?
Zero entry pools, also known as beach entry pools, are pools with one or more sides that gradually slopes from land to water. Some zero entry pools slope halfway and then they use underwater steps to make the end of the swimming pool deeper. The main goal of a zero entry pool is create a pool that looks like a beach. With that in mind, some pool owners take that a step further and introduce sand, waterfalls, and other pool design elements to make the swimming pool feel more like a beach.
Advantages of Zero Entry Pools
While zero entry pools can be very attractive to many pool owners, there are many other reasons that pool owners go crazy for this style. Zero entry pools allow kids, the elderly, and people with disabilities to enter the pool with ease. The won't have to walk down steps or climb down a pool ladder. Instead, they can gradually walk down the slope safety and can swim on the slope for easier assistance. The beach entry pool also has warm water at the entry due to the sun being able to heat up the water quicker due to the shallow water. This makes your pool a great spot to lounge or relax on a hot and sunny day without having to be submerged in water.
Disadvantages of Zero Entry Pools
The upsides to a zero entry pool can be extremely obvious but zero entry pools are not the right choice for everyone. First, the cost of a zero entry pool can be extremely high due to the lack of contractors that have the technology to design and install the beach entry pools. If you are able to find a contractor that can build the swimming pool, they will probably charge a premium for their capabilities of being able to build it. Most pool owners have them built into existing in-ground pools but you can also have them built if you are deciding to build a new in-ground pool. You also have the option to have a zero entry style fiberglass pool if you wish to go that route.
Having the room to accommodate a zero entry pool is a big must. They require the gradual slope into the body of water, which requires much more space than a traditional in-ground pool. If your backyard space is limited, a beach entry pool may not be the best option for you.
Are Zero Entry Pools More Expensive?
Yes, this feature will typically increase your pool's budget by 10 to 25 percent more. A big factor on how much more it will cost is whether you go with a fiberglass pool or an in-ground pool. With fiberglass pools, you can get the shell alone that already has the beach entry feature, which runs about 13 to 15 percent more. If you get this built in into your in-ground pool design, it can cost as high as 25 percent more.
Bottom Line
While zero entry pools are not the right fit for everyone, they are an excellent option for those wanting a pool that is fun and functional. We see that beach entry pools will still be a hot trend for the foreseeable future.