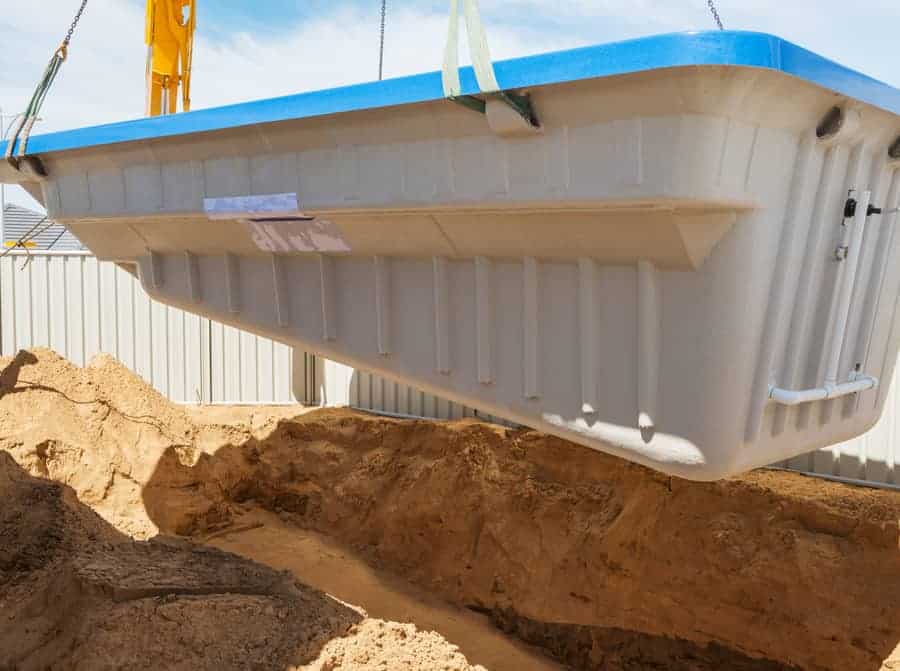 When choosing the right swimming pool to purchase different factors need to be considered in order to ensure the perfect fit for your needs. There are different designs of pools with different costs and advantages. However, one design that has seen an increase in popularity in recent years is the fiberglass pool. 
Families looking for an affordable pool tend to opt for fiberglass swimming pool due to its relative low installation and maintenance costs. Fiberglass pools are made of materials that give the pool a cool style and makes it easier to clean and maintain. One of the major questions asked by many prospective pool owners is: What is total cost required to install a fiberglass pool? 
How much does an average fiberglass pool cost? Fiberglass has a huge upfront fee and it is understood that many families spend between $30,000 and $60,000 on average to construct fiberglass pools.
You can decide to purchase a fiberglass pool that comes with minimal upgrades which would definitely be cheaper. 
Are Fiberglass Pools Cheaper?
Some homeowners are willing to pay a premium to ensure maximum comfort and would spend more on better quality, aesthetics and materials. The fiberglass pool cost ranges between $7,000 and $70,000 depending on the extra accessories added to the pool. 
Fiberglass has a huge upfront fee and it is understood that many families spend between $30,000 and $60,000 on average to construct fiberglass pools. This is in sharp contrast to the relatively cheaper price to construct cement pools, Above ground pool or Vinyl Liner Pools.
Let's see how fiberglass pool costs compare with other common types of swimming pool. 
Vinyl Liner or Inground Pool
Vinyl-lined pools are usually viewed as a temporary swimming pool solution and costs within the ranges of $25,000 -$55,000 to install. Its initial costs most times is lower than fiberglass pool, but this difference is canceled out when you put into consideration its maintenance costs. 
Fiberglass pool has the edge as Vinyl Liner pool would cost the homeowner over $5000 in maintenance within a 10 year period.
 Fiberglass pool would only cost a fraction of that amount within the same span of time. Furthermore, Vinyl Liner swimming pool materials don't last as long as fiberglass pool which makes it a poor choice for a long-term investment. 
Concrete pools are quite popular due to the variety of designs and options available to this type of pool. It usually costs $30,000-$65,000 to install a concrete pool which is similar to inground fiberglass. However, the maintenance cost of a concrete pool is higher in the long-run when compared to that of a fiberglass pool. 
The average cost of maintenance of a concrete pool within the period of 8 to 12 years is $7,000-$12,000.
Concrete pool presents different maintenance problems such as constant brushing of the walls to prevent algae formation, discolouration and constant chlorination of the water. 
Also, the pool has to be re-plastered after 8 to 12 years which adds to higher costs in the long-run. Installing a inground fiberglass pool is a no-brainer when compared to concrete pools.
Above-ground swimming pools have become common in recent years due to their low costs of installation. Also, this type of pool does not require a lot of space to be installed. This makes it an attractive prospect for homeowners with little outdoor space as it can be installed within the main building. 
Furthermore, several retail giants such as Walmart have started offering above-ground swimming pool packages making it accessible to many. The average cost of installing an above-ground swimming pool is $7,000-$20,000 depending on extra add-ons and the size of the pool. 
In-addition the shapes of the pools also determine the costs as oval pools tend to cost more than round pools. When compared to inground fiberglass pools, above ground pools are cheaper but have more maintenance costs due to replacing swimming kits. 
Also, most of the above-ground pools have a use by date of 2-3 years before replacement. 
Factors That Influence The Total Cost Of Fiberglass Pool
Usually the costs accrued in the beginning part of the pool constructions and includes excavation costs, costs of decking and other factors. 
Size and Design of the Pool
There are different factors that can contribute to the final cost of fiberglass swimming pools. One of which is the size of the pool, which is a major factor in this area. Although fiberglass pools are limited in their size unlike concrete pools, you still have to consider the size that would suit your swimming needs. 
Fiberglass pools usually come in different sizes and dimensions depending on the preference of the homeowner. However, the industry minimum standard size Is 16X40 feet in total and typically comes in rectangular shape. 
The size of the pool would affect the excavation cost for your fiberglass swimming pool area, which would impact the overall cost of the pool. Depending on the size, labor costs could increase as it would require more labor to excavate a large sector of space than a relatively small area. 
Another factor is the topography of the area, if the area is rocky, digging would take more time leading to more cost. Areas with unstable soil would require additional materials installed to ensure settlement does not affect the pool after construction driving the cost of the pool.
The decking of the pool is another part of the installation process that could increase costs depending on the material used. Stone and concrete decking tend to range between $4000-$5000, while quality wood material decking is more expensive costing between $6000-$8000 to install. 
Additional pools cost due to specific techniques required such as size and shape of the deck there could also drive up the costs of installation. Premium materials such as slate and bluestone can be used which would drive up the costs of excavation and decking. 
If you're in an area that has poor water supply then your costs would rise. This is as a result of extra expenses needed to transport water to the location of the pool and this could contribute to the overhead cost of the pool. 
How Much Does it Cost to Put in a Fiberglass Pool?
When the construction cost has been determined it is essential to take note of the various installation options available and make a comparative analysis. Most pool installation companies offer different packages which differ in prices which can be a determining factor when considering the total cost for a fiberglass pool. 
Some pool companies offer flexible packages while others offer rigid packages which take care of the entire package albeit at higher prices. 
Some of the installation packages offered by most companies are analysed below with an estimated price range. 
Self Installation Package
This type of installation by pool companies involves the pool skeleton shipped to the required place of residence. The homeowner then undertakes all expenses required for labour such as excavation, fencing permits, pool setting and other activities. 
Self-installation is usually the cheapest form of setting up a fiberglass pool as long as the homeowner has sufficient knowledge about the process. Since the pool company does not provide labour, it tends to be cost effective as the homeowner can install the pool with the necessary equipment required for the installation. 
However, it is essential that the installation process follows strict guidelines and attention to details to prevent installation mistakes. Self Installation costs usually range between $10,000 and $30,000 depending on different options and add-ons. 
Partial Self Installation Package
In this package, the pool company takes care of the pool shell, excavation, pool permit, filling the pool with water and setting of the pool. This is a more advanced package to the self-installation process as the pool owner has less to do independently. 
The pool owner is only responsible for the finishing aspects of the installation such as fencing, cleaning of the pool, electrical installations and wiring. This is usually taken by homeowners that want to save pool costs but still desire the technical nous of the pool company to set up the fiberglass pool. 
The cost of this pool package is within the price range of $20,000 and $45,000 depending on the Size of the pool and additional add-ons. 
There is also an advance package where the homeowner only takes care of fencing and electrical installations which costs within the ranges of $35,000-$50,000
Full Company Installation package
This is the option many homeowners tend to opt for, in which the pool company takes care of all the processes involved in the construction of the pool. With this the owner just has to pay for the total costs which could vary as a result of inground pool size and add-ons. 
One major advantage of full company installation is that it usually comes with a warranty and homeowners can be assured of the quality of materials and work done. The cost of this package is slightly more expensive and ranges between $40,000 and $75,000
Costs of Add-Ons and Extra Accessories
Owning a swimming pool has always been attributed as a thing of comfort due to its position as a place of relaxation. Just like owning a car it is always essential to add extra elements that would make you feel comfortable in the pool. 
There are hundreds of add-ons and accessories available for fiberglass pools to make the swimming experience relaxing and enjoyable. Some of which includes. Jumping Rocks, Pool Lights, Ladders And Handrails, Diving Boards, Pool Cover, Pool Tiles, Hot Water Tubs.
Many homeowners that enjoy diving may have diving platforms installed in their pools. Diving boards and jumping rocks are two major diving platforms used by many to facilitate diving. 
Jumping rocks have different designs and can add an aesthetic feel to the pool when applied correctly. While diving boards are meant to proving the necessary spring required for diving. 
The average cost of a jumping rock is around $300 to $3000 depending on the size and material of the rock. While diving boards range between $400 and $5000 depending on the material used. Both diving platforms come with mandatory insurance requirements due to the risky nature of diving which could increase the overall cost. 
Pool covers have become popular in recent years due to the advantages of its use. The covers help to keep the pool clean and prevent the growth of sediments during the periods when it is not in use. 
Pool covers usually cost around $3000 for mesh covers while solid covers cost $4000. 
Pool lights are one of the common accessories installed by homeowners. This lights help illuminate the pool and allow you to use the pool at night. Pool lights are usually installed to the walls of the pool or allowed to float towards the surface of the pool depending on the owner's preference. 
Pool lights could cost within the ranges of $300-$2000 depending on the type of bulb and the size of the fiberglass pool.
This accessory is useful during the winter period or if you live in an area with temperate weather all through the year. Installing a heat pump or hot tub to your fiberglass pool would allow you to enjoy a moderate temperature for your swimming needs. 
Fiberglass also has an advantage of retaining heat well due to the make-up of its material and it would save you the cost of electricity. Hot Tubs and Heat Pumps usually costs between $1500 and $3000 on average. 
One of the key aspects of maintaining a swimming pool is ensuring that the pool is clean at all times. Pool vacuums are an important accessory to own as it helps remove debris and sediments from the bottom of the pool. 
Pool vacuums come in different sizes and shapes depending on the preference of the homeowner. The cost of pool vacuum is within the ranges of $100 and $400.
Pools can be dangerous to minors or pets who may wander into their location without adequate supervision from an adult. A pool fence is a nice accessory to prevent such an occurrence. 
Pool fences can be built from different fencing materials like rubber, iron and aluminium. 
The cost of a pool fence is dependent on the size of the fence and the quality of materials used. It is estimated that the average cost of building a pool fence is around $1300.
Pool Ladders and Handrails
Many pools owners prefer to add Ladders and Handrails to the pools depending on the depth of the pool. This is common in multi-depth pools as this equipment serves as a protective guide for swimmers within the pool. 
A ladder also helps for easy entry and exit from the pool and is usually installed on the pool walls. The average cost of a ladder or handrail is between $300-$1000 depending on the materials and number required across the pool. 
Fiberglass Maintenance Cost
Maintainance costs is another key factor when it comes to installing a fibreglass pool. Depending on the type of pool and extra accessories this could result in an increase or decrease in the amount spent monthly maintaining your pool. 
Pools have to be maintained regularly to prevent sediments and Algae growth as well as preserve the aesthetic features of the pool. Bear in minds that these costs include chemicals and other necessary equipment required to keep your pool under optimal conditions. 
Some of the conditions which require regular maintenance are:
Fiberglass pools can get stains as a result of corrosion of metals used to produce the fiberglass shells. This gradual leeching of iron from the pool shell would produce the brown rust color stains to the pool. 
Also copper from the wall materials can also lead to discolouration of the pool when eroded. This gradual erosion produces a blue-green stain which gives the pool an unsavoury look. 
Anti-leeching chemical agents are required to maintain a spotless condition. These chemicals work by maintaining the metal balance ratio ensuring that the fiberglass pool shell is kept spot free. 
Water filled in a pool is usually treated to ensure that is safe and healthy for swimming. There is usually a range of PH (level of acidity or alkalinity of the water) that is required for fiberglass pools. It is important as a pool owner to regularly test your pool for the PH level. 
 A good way to maintain the PH level of the pool is to turn on the pool filter after use. constant application of this procedure would help maintain optimal levels. You can also utilize a skimming net to clean debris and dirt which can affect the PH levels of the pool. 
Regular cleaning of the pool walls and floor with a special sponge and chemical cleaners would help maintain the PH of the pool. Vacuuming of the bottom of pool is also a good way of maintaining the PH level of the pool.
The required PH balance for a standard pool is between 7.4-7.6, Chlorine balance is between 1.0 and 3.0 ppm and Alkalinity level is between 100 and 150 ppm. 
Checks for Leakage and Proper Fitting of Plumbing Equipment
Plumbing equipment such as pipes, valves undergoes wear and tear as a result of friction over a period of time which could lead to blockages. It is essential to check for leakage and lubricate valves and moving parts periodically. 
There are special lubricants that can be applied to different parts of the plumbing network. These preventive methods can help save money as lack of maintenance could result in the wholesome replacement of parts. 
The water level of your fiberglass pool must be checked regularly in order to maintain safe conditions. Pools with diving platforms such as a jumping rock or diving boards have to be checked regularly to maintain a minimum of 8 feet water level for safe diving. 
Blocked valves or problems within the plumbing network could result in rising or reduction in pool water level. It is always beneficial to observe regular checks on valves, pipes and other plumbing equipment. 
In-addition multi-depth pools have to be monitored carefully because there could be sharp discrepancies between two intersections which could be dangerous for swimming. 
Labour costs should also be put into consideration as some of these processes would require a professional to maintain the correct standard required. Many pool maintenance services charge between $50-$150 an hour depending on the nature of maintenance needed. 
Logistic Costs
Logistic costs can also drive the cost of installing a pool as administrative processes could require different fees for approval. Some of this logistic costs include. 
Permits and Taxes
Most times a permit is required before construction of a pool can begin. 
The cost of getting a permit varies from town and state, on average it is more expensive in cities compared to small towns. There could also be some surveying costs from the pool company before the actual construction of the pool.
Some regions could have laws and regulations that require pool owners to pay taxes either during construction or after installation. It is of essence that you make necessary inquiries about the legal requirements needed for owning a pool in your region.
Warranty and Guarantee
It is also important to always inquire about the warranty plans of a pool company before purchasing a fiberglass pool. Many pool companies offer warranty and money back guarantees on products. While some offer free technical services on problems that occur after installation.
If there is no warranty it is important to reach an agreement with the pool company in writing over key aspects of the construction. 
This is particularly useful in the advent of installation problems or inferiority in materials as you have something to fall back on. 
Fiberglass Pool: Pros
Fiberglass pool has several advantages when compared to other pools as it gives long-term durability with lower maintenance. It does not require constant plastering and resurfacing like concrete pools and does not need linear replacement of parts like vinyl-liner pools. 
Homeowners are not limited to a particular style as fiberglass pools have an array of shapes and designs which can be modified to maximize outdoor space. This makes it an ideal pool for homeowners as it can be placed indoor, outdoor or in the backyard. 
 The problem of microbial growth in pools is common with concrete pools due to its porosity. Fiberglass pool retains water well making it more resistant to microbial growth of algae or fungi on the walls of the pool. Fiberglass is also more gentle for the swimmer due to the type of materials used to produce its shell. The finishing of fiberglass pool shell retains a smooth non-abrasive surface perfect for walking and swimming comfortably without fear of the body suffering abrasion due to rough patches. 
Furthermore, since fiberglass pools are built to specific requirements by pool companies it is more adaptable to different topography conditions. Improvement in technology means that constant innovations are added to new batches of fiberglass pools which increases its durability.
Fiberglass Pools: Cons
One of the major problems experienced by fiberglass owners is the issue of cracks within the main drains of the pool. Thos os usually caused as a result of the sand used to deck the pool shifting and settling between the plumbing lines. This subsequently leads to blockage of valves or breaking of pipes causing leaks. 
In-addition fiberglass pools can be susceptible to bulging when not properly fitted in the ground. The fiberglass shell could experience warping and shape change due to this installation mishap. The initial cost of a fiberglass pool can also be a major deterrent as it is not budget friendly when compared to vinyl-liner pools or above ground pools. 
Related Questions
What is the average cost of labor during fiberglass pool installation? 
The average costs labor costs differs from towns to city but according to the reports it ranges between $25-$80 an hour depending on the size of the pool and additional add-ons required. 
How long does it take to construct a fiberglass pool?
Fiberglass pools typically take less time to construct than vinyl-liner and concrete pools. On average it takes around 2 weeks to construct a fiberglass pool from excavation to the finishing stage. 
How long do fiberglass pools last?
Fiberglass pools are durable and can last for up to 25 years but the gel coating would require resurfacing after 8-10 years. 
What is the average maintenance cost of fiberglass pool?
Fiberglass pool has the lowest maintenance cost when compared to concrete pools and Vinyl-liner pools. Most homeowners will spend $2000-$3000 to maintain a fiberglass pool within a ten year period.